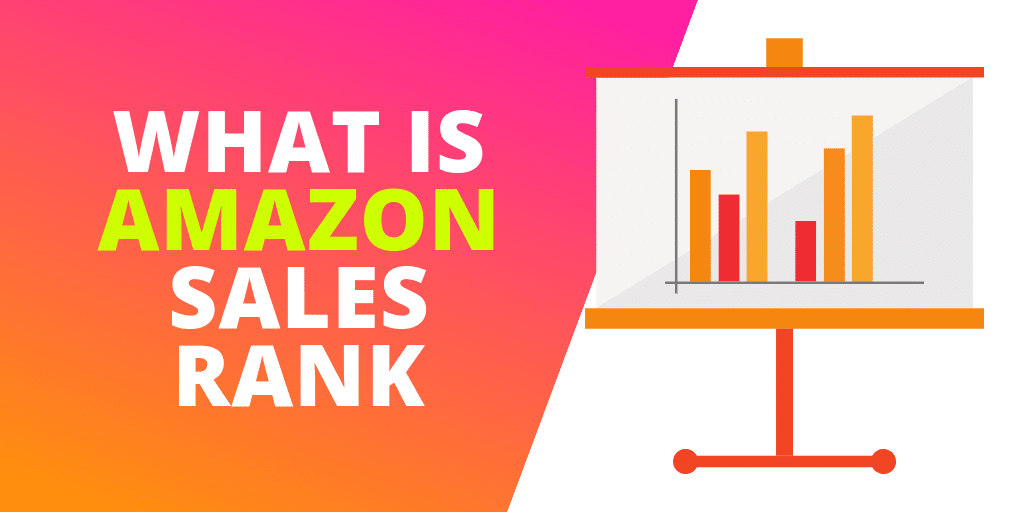 What is Amazon Sales Rank?
Amazon Sales Rank (Amazon Best Sellers Rank) is an hourly updated metric by Amazons a9 algorithm used to tell Amazon Sellers where their product sales stand competitively in their product categories.

---

Amazon BSR is calculated using sales history, current sales velocity and predictive sales forecasting by comparing your product sales vs a competitor and similar product sales in your product category and sub-category.

---

In short, a good Amazon Sales rank is a lower number than your competitors at any given hour.  Keep reading to learn EVERYTHING you need to know about how Amazon Best Sellers Rank works and how you can use it to generate A LOT of sales by getting to the top of Amazon product searches.

---
Amazon Sales Rank (Amazon Best Seller Rank or Amazon BSR) is the status symbol and measuring stick of sellers on Amazon.  It's a metric that lets you know how well you're doing:
In your main category
In your product-specific category
vs. your competitors
Amazon BSR is directly applicable to Amazon Seller Central Sellers, Amazon Vendor Central Sellers and those selling Amazon B2B.
Selling on Amazon can be way more complex than most thought it would be when initially setting up their products.  With 25 ranking factors to appear in product search results, FBA, Seller Fulfilled Prime and much more, there is a lot to consider.  Trust me, I would know.  I'm an Amazon Consultant with 10+ years experience.
BUT, by the time you're done reading this article, you're going to comprehensively understand Amazon Sales Rank (BSR) and how to increase sales on Amazon by focusing on it.
What We Will Focus on In:  What is Amazon Sales Rank?

What is Amazon BSR (Best Seller Rank) 
Amazon Sales Rank is a number that Amazon assigns to a product.  The best seller rank (BSR) is your favorite player's jersey number, your lucky number, your status symbol of how great your products are number.
If you're currently at 5 million, there are 5 million other products that are moving faster than yours. If you have a listed item posted and it has never sold, there isn't an Amazon best seller rank number listed.
Neither of these scenarios is a great spot. BUT, that is why you're spending more time searching for how to improve your Amazon BSR. This article will provide more details than you've seen thus far. Therefore, will push you to take action and see the results you need. 
BSR is essentially a snapshot in time. A number in the millions can be good if you haven't sold anything in quite some time because if someone buys your product, it will decrease your best seller rank number into the hundreds of thousands.
However, if there aren't any sales after that, it'll get much worse. Your goal from there is to consistently lower your Amazon BSR number and become steady. Rank is driven down by sales, demand pushes sales rank down. 
Let's take a quick look…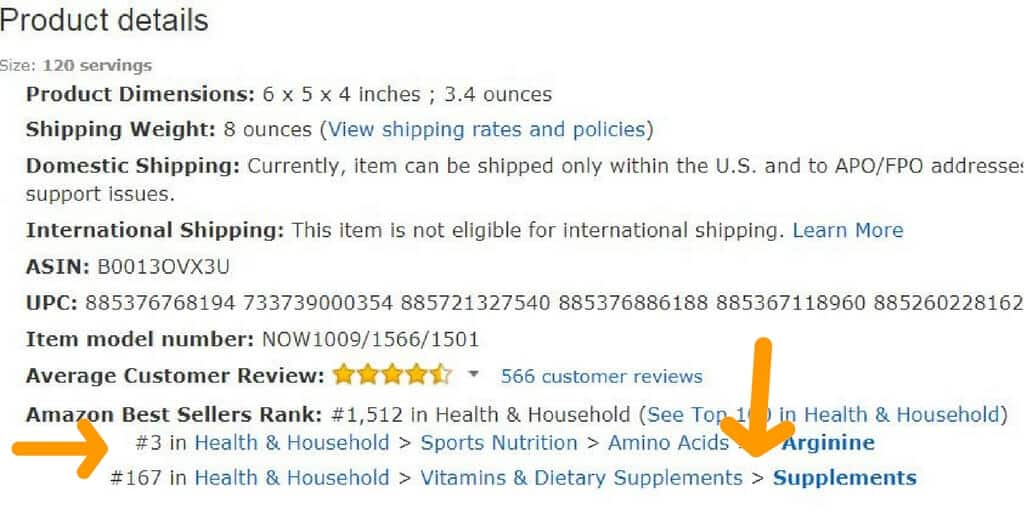 The Main category for your Amazon BSR is a general category. For example, if you're selling health supplements, the main category is "Health and Household".

This category holds hundreds of thousands of varying products that are probably not even close to your specific niche. This number is important, but not as important as the sub-category.
Sub-category ranking is your focus. You want to decrease your Amazon best seller rank in this section.
Here is where you'll find your immediate competition, we'll dive into those natural details in the next few questions.
But first, let's look at 10 factors that make up Amazon Rank.
10 Amazon Sales Rank Factors:
Amazon Best Seller Rank is calculated by comparing your product sales vs a competitor and similar product sales in your product category and sub-category.  (Make sure your product is listed in the correct category.  This is CRUCIAL for Amazon SEO.  SEE:  Amazon SEO – Everything You Need To Know [INFOGRAPHIC]
Amazon Rank is updated hourly by Amazon's a9 algorithm.  This is for every single product and is updated for everyone to see on the front end of the Amazon site each hour, simply monitor a product throughout the day, stay on a listing, hit refresh and check out the sales rank.
No best selling rank?  That means you're new but don't worry.  You will get your first Amazon Sales Rank score typically within a few hours of your first order.  It won't be great, but it's a start.
It's not just about what you do but what you CAN do.  Amazon sales rank is based on calculations of recent sales and also sales you've made in the past.  Historical data plays a part in forecasting BSR.
Do you and a competitor have the same or similar products and doing the same amount of sales volume currently but have significantly different Amazon BSR?  Well, keep in mind, historical sales data and forecasting go into the predictive sales rank.
Some products get a good Amazon sales rank right out of the gate.  Amazon's predictive best seller rank for products that can logically be predicted to sell mass quantities such as a new release Star Wars toy, get the benefit of a low number aka good sales rank right off the bat.
Massive swings in Amazon Sales Rank?  Don't worry it's normal.  Due to the staggering number of sales that take place on Amazon each hour in each category, you can see giant gains and losses in BSR hour by hour.
Some products on Amazon are not assigned a BSR.  Obscure child products in grocery or products with very general keyword products.  You will see BSR for these in the parent product.
Get that unicorn order for 500 units and only saw your Amazon Sales Rank spike by a little bit?  Well, Amazon BSR looks at orders and units differently.  If you get 1 order for 500 units, its the same as getting 1 order for 1 unit. They want to make sure you're spreading the love.

How Amazon BSR Affects Amazon SEO?
When you're looking into how to reduce your ACoS on Amazon ads, most Amazon Sellers, whether they are Amazon Seller Central Sellers or Amazon Vendor Central Sellers, consider Amazon SEO as part of their strategy.
Amazon best seller rank has many determining factors. For this reason, we will discuss the importance of combining these factors so that it will manipulate your Amazon BSR. Furthermore, BSR is affected by Amazon search engine optimization.

Amazon SEO focuses on converting a shopper into a first time customer immediately. Amazon Listing Optimization includes; sales velocity, sales copy, and photo details. These will convert the product listing to increase sales.  Products with a "better" best seller rank, appear higher or more prevalent in search results. 
What is Amazon Sales Rank, specifically the best seller rank, is the final product of each of these different factors that have contributed to your proven success. Think of it as your grandma's secret sauce recipe. She gives you all of the ingredients and you try and make it yourself, but it never tastes exactly the same. 
Sales Velocity:
Sales velocity is a measure of how quickly a product is sold. Think of this term as "money-per-month". Notably, this is very useful to predict future sales and measuring the impact of changes. Your goal here is to maintain an effective sales pipeline.
With that said, consumers are less likely to return after they leave your page. Your Amazon BSR will continually reflect those losses since your technique isn't currently working. E-mail follow-ups and offer discounts. These are two great ways to bring them back and convert them.
Amazon Conversion Rate Optimization:
Amazon conversion rate optimization is extremely important in fulfilling your goal to increase your Amazon best seller rank.  In this instance, your conversion rate is the percentage of leads that convert from potential customers to paying customers in a month.
A high click-through rate (CTR) will improve your longevity organically. If you create bundles or incentives it will bring more people to your page. 
Amazon Sales Rank has another ingredient. Particularity, in the E-commerce industry,  Google optimization is the top focus.  Amazon optimization is more important for this matter.
Think about it. A shopper researches on Google for information on a product's primary use, durability, quality etc. Shoppers BUY products on price competitive and credible websites. These websites turn new customers into repeat customers.
Amazon is more precise in that they measure success by revenue per search.  Google measures by click rate, search refinement and dwell time. Improving conversion rates is a big concentration when optimizing for Amazon. (Organic Search Ranking Factors) Amazon's algorithm can be a bit complex, but we know BSR ranking can be based on historical data too.
You will make it harder to stand out if your product image is the same as everyone else. As a matter of fact, online shoppers want products to be brought to life with images (78%) and product reviews (69%). (E-commerce Online Trends)  Also, make sure your images are at least 1000 x 1000 because it will initiate a zoom function. "Zoom function has shown to increase sales." (Amazon Customer Help)
Sales Copy:
Sales copy should be seductive.
Creating buzzwords for each product, using tricks, technique, and formulas help consumers justify why they need your product so badly! 
Headlines should intrigue the consumer passing through, stop them dead in their tracks to click on your link versus the competitor. Focus on your most important benefit, while keeping it short and sweet.
Credibility by using specific details can help persuade the customer into thinking you know everything about this product because you really are the professional.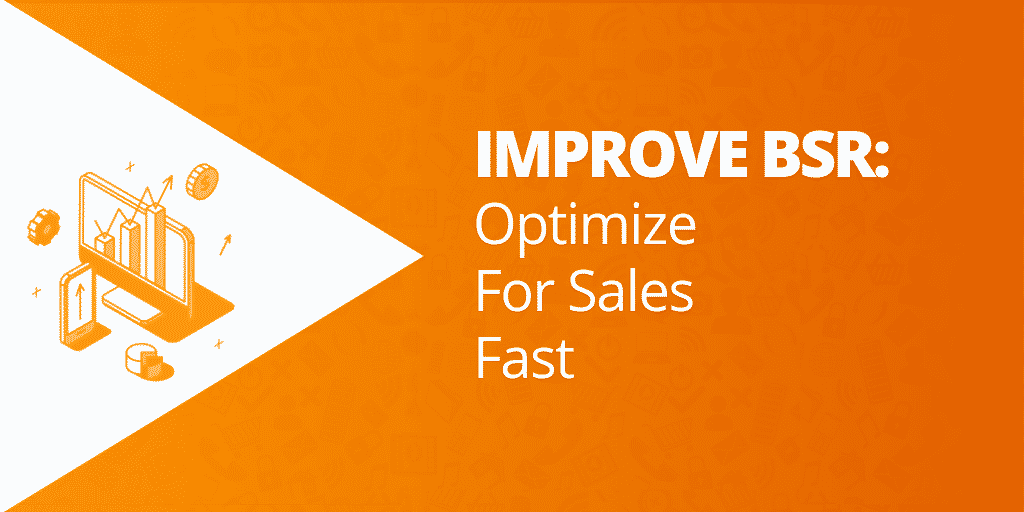 How to Improve Your Amazon BSR:
Amazon Best Seller Rank changes constantly, but one of the most important driving factors is sales history & sales velocity are used in Amazons' sales forecasting.
How do you Increase Amazon Sales?  One of the quickest ways is to tackle your low hanging fruit, the traffic already coming to your listing with Amazon Listing Optimization.
When you significantly improve your Amazon conversion rate, you've just significantly improved your BSR.
Images, sales psychology, sales velocity, social media, and outside source product listings are crucial to success. Amazon rewards consistency.
Sales psychology is put to good use here. You want to make sure a high percentage of people convert the FIRST time on your page. 
Reverse engineer the customer you want. You are the lion seeking out the zebra. In this instance, the zebra will be fine after you've perfected your hunting technique.
After all, they have made the initial move to search for your product. Your persuasion is what closed the deal. Persuasion is an easy to learn the technique; understand who they are and what they want to hear. 
Use keywords, phrases, detailed descriptions, and capitalize on the solution you provided for their "need". By tailoring it to the type of customer you want and using techniques like this, it will make your potential customer feel like they need to execute their decision immediately and purchase your product over your competitors.
We're Giving Away Our Process To Get Amazon Influencers.
We'll trade you a proven step by step process to drive Amazon sales quicker & easier for an email.  Tradesies?
Don't forget, your title is important… "Well-chosen search terms increase a product's visibility and sales. The number of views for a product detail page can increase significantly by adding just one additional search term – if it's a relevant and compelling term." (Amazon)
Believe it or not, best seller rank is impacted by your Social media presence ( or lack thereof). It's such an important factor when increasing visibility in the online world. 
79% of Americans shop online while 20% of online shoppers are likely to make a purchase from Facebook. (E-commerce Online Statistics)
Instagram is another great way to gain an audience because 21% of online shoppers are more likely to follow a brand on Instagram. Hence, if they follow, they will buy. If they like the product, they will put reviews and reviews increase Amazon SEO.
Finally, it leads to the next important key factor – Amazon SEO, which ties back to your best seller rank. All of these techniques work best together in improving your BSR.
To grow a following not only do you need social media presence, but paid advertisements will help you increase your followers and eventually lead to organic traffic. Analyze data and project when to schmooze your belove.d customers by offering discounts and coupon codes.
This can enhance your sales as compared to handing them out when you think you should. This could cost you money, time, and hurt your image.
The inbox is the number 1 visited site online. Sending custom messaging, reminders to finish checkout or providing a discount to get them there again are beneficial to your BSR.  Repeat business is inspired if you e-mail and provide one-time coupons, time-sensitive coupons, and friendly reminders of items that are "low in stock".
Get creative. Visitors need that extra push to close the deal. Make them unable to say no to you. The more they see your product lurking around, the more likely they will be persuaded to buy it. Make sure they buy it from YOU!
Another great tip is to use product inserts.  Product inserts reduce in-authenticity claims and increase positive reviews.
Reviews directly influence best seller rank because they impact conversion rates, in turn, boost sales, leading to a better BSR. One way to increase your product reviews is to actively run campaigns. Shopping campaigns on Google will show your product, price, title, store name etc.
It's the perfect snapshot of everything they need to see to get them on your site or your product page for the Amazon BSR. Listing on Google products in another avenue that will improve your chances of regular visibility from all over. 
Keyword optimization is important to include within your listing. You want search engines to pick up your product page and list it before others.
Where you list your words and how are crucial to success. Look at your competitors and analyze what they are doing differently than you.
Amazon Brand Registry gives you access to powerful sales tools that help you significantly improve your Amazon BSR.
These tools include:
Amazon Enhanced Brand Content
Amazon Product Listing Video
Amazon Storefronts
It's free to register your brand on Amazon, you just need an active Trademark, the ability to prove you are the brand owner and an Amazon seller account, either Amazon Vendor Central or Amazon Seller Central will do the trick.
That being said, can you track Amazon Best Sellers Rank given that it's so volatile?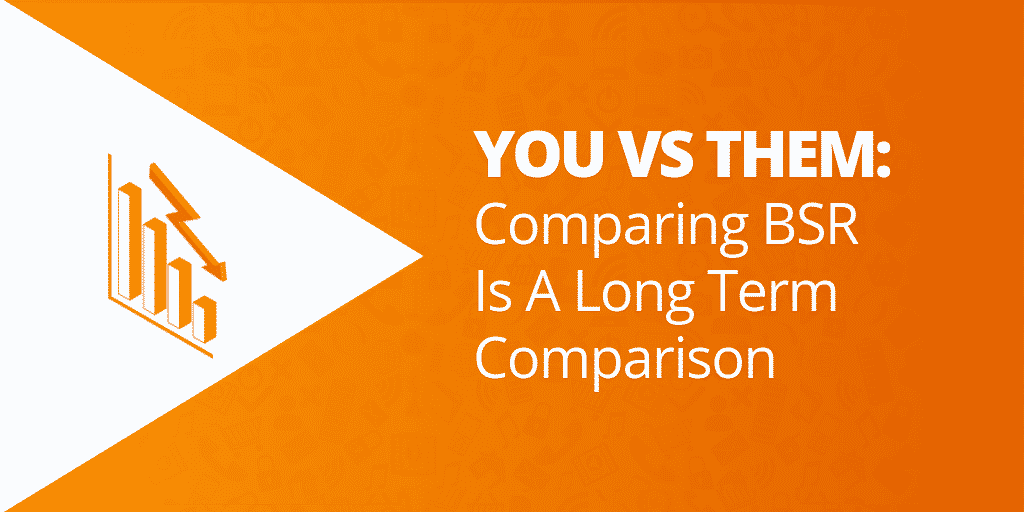 How to Compare Yourself vs Your Competition Correctly using BSR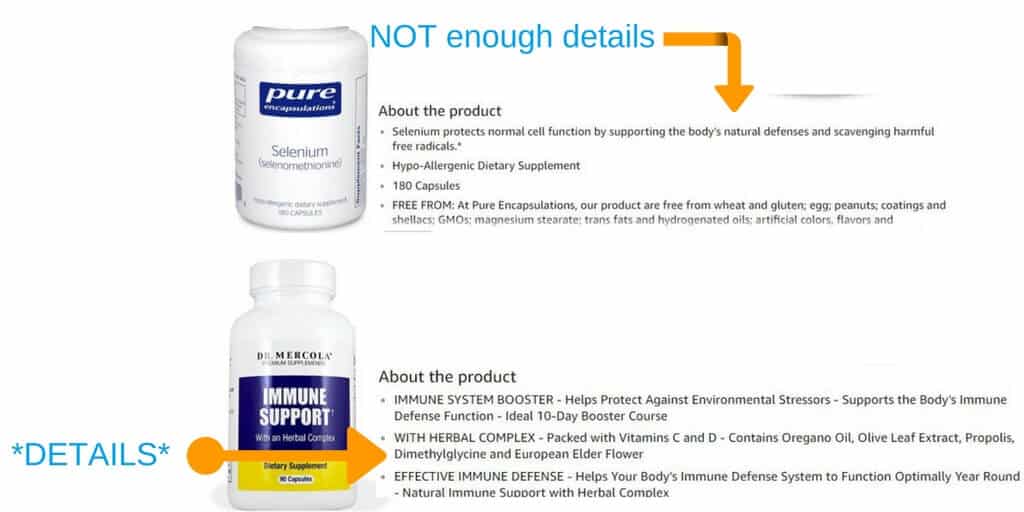 Dr. Mercola and Pure Encapsulations are both highly recognized in the integrative medicine field. They both offer great products for immune defense, but Dr. Mercola knows his followers thought process on decision making. His customers pay attention to detail.
They are skeptical about mainstream supplements because they are more likely to be less honest about what exactly is in their product. Therefore, he is precise in the description and explains how it'll solve their problem.
You've probably read a few articles that suggest measuring Amazon BSR week to week, month to month. This inaccuracy is a complete waste of your time!
Your top 3 competitors need to have 2+ years of selling history in order to track how their BSR is a low number.
Your competitor's sales funnel technique includes; promotion length, image details, reminders, and communication channel outlets. These are some ways they will stand out in comparison.
Using your own data, compare when you do similar campaigns, how they are done, and your success rate. This will help you forecast and capitalize on things like seasonality and other sales factors.

To keep track of your Amazon Sales Rank, I highly recommend this nifty tracker, AMZ Tracker . AMZ Tracker is a tracker that actually helps you better analyze and understand what factors contribute to your best seller rank AND you will understand why your competitors are doing better than you.. for now. 
This tracker will give you the data needed to analyze trends to reverse engineer your competitor. Look at last quarter/last month sales.
Their sales rank should spike which causes a drop in best seller rank, this is an indication of a recent sale.  Therefore, look into what caused the sale.
Read reviews of your competitor. A product with more reviews will outsell a product with fewer reviews. Amazon's algorithm doesn't directly care about the number of reviews, but reviews directly affect conversion rate.
A conversion rate is something Amazon loves, in turn,  lowers your BSR when you've done everything correctly. However, the bestseller rate can be skewed by a newly promoted product, so it's always important to track over time!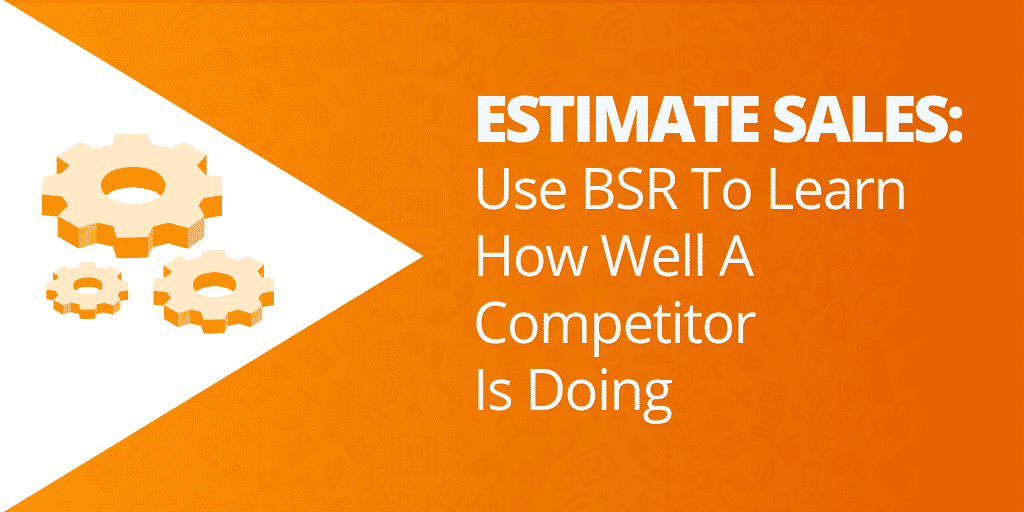 How to Estimate Sales using BSR:
Don't you want to be one step ahead of your competitor at all times?
Well, you should start to predict your future sales accurately. This will help with consistent inventory movement, expected profit margins, and inspire innovative ideas.
 Compare a competitor's product amount of sales per day, per week, and per month. Your Amazon best seller rank is a reflection of your current methodology. 
If you're unsure of a product segment, this is a great way to obtain trends and analytical data to see what your odds of success are in that niche.
Members can unlock a ton of functionality using AMZ Tracker. Hence, a TON of capabilities that will assist you in tracking, analyzing yourself, others, and comparing sales techniques.
 One tracking method that stands out is keyword tracking. Keyword tracking is a huge factor to enhance your sales funnel technique. You will better understand what consumers search for when typing into a search engine. Thus, a better opportunity for a sale.
Notably, they are not full sentences and they can be slightly inaccurate in reference to a product, but the majority of consumers are searching the same way. Figure out those words!
A consumer cannot find you if you don't have the right search keywords. Consequently, no page landing means higher BSR and fewer profits.
Keywords make you more relatable and can reassure the consumer you are their only answer. If your keywords match what they are looking for, then they're offered your product page as a top option. 
Amazon SEO increases brand visibility, creditability, and organic customers. Knowing what keywords to use are part of the optimization process.
Unicorn Smasher is not just about smashing unicorns, it's BIGGER than that. This is a dashboard that compiles all the information you had no idea you needed to find "money-making" products. Most of all, it's a data-driven sales estimator that researches everything for you. 
First, go to the Google Chrome web app store, then download it. Once you've downloaded it, it will appear as an icon on your Google search bar. Search a general product on Amazon, then on the results page, click on the Unicorn Smasher icon and BAM, information for days.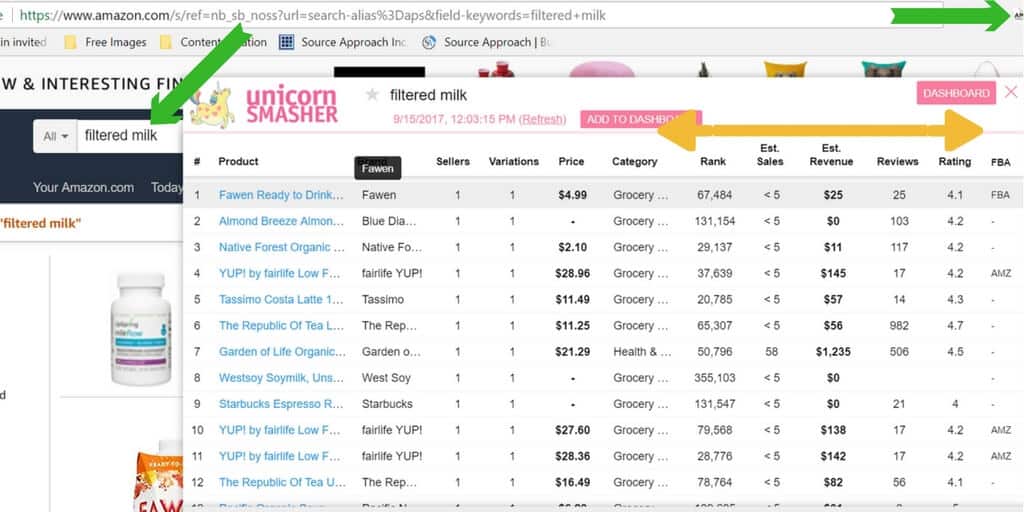 Now that you have better tools to analyze your data, use the sales velocity techniques to solidify their decision in landing on your product page. Otherwise, you've lost a potential buyer!
 Amazon Listing Optimization is for those who decide to take action on their needs and wants. They are the top Amazon BSR, they have a constant flow through inventory and high profits margins to prove their BSR.