Amazon Influencer Storefronts have powerful features that combine the best parts of a social media network, an online shop and a live streaming platform all in one. 
This consolidates all of the best parts of facilitating sales into one powerful core selling machine.
The online shop component is called Idea Lists.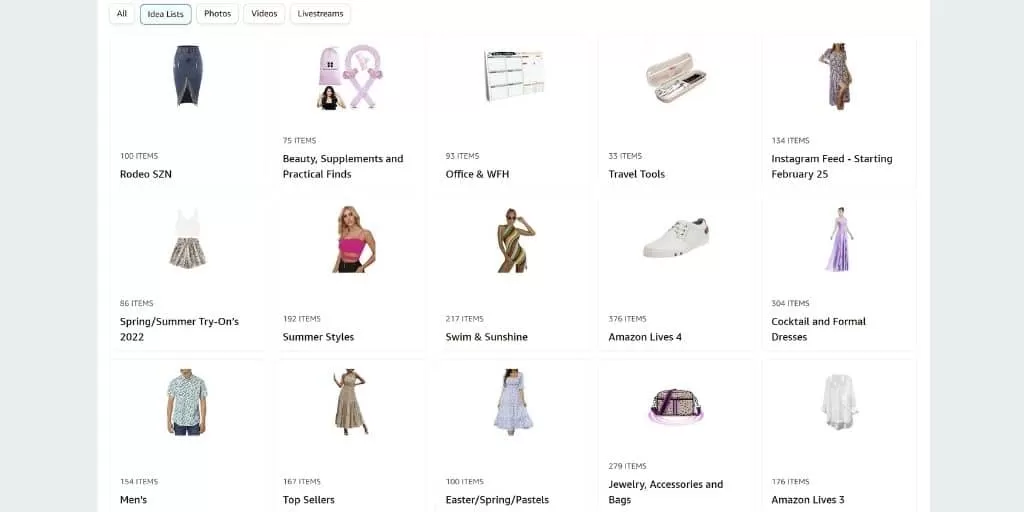 Amazon Influencer Storefront Idea Lists
Amazon Influencer Storefront Idea Lists are how Amazon Influencers categorize the products they recommend.
Amazon Influencers often cover topics in-depth on their social media network of choice, which means they promote a broad array of products.
This necessitates categorizing them, similarly to how you would select product categories when listing a product on Amazon.
The fun part is, that they can name the categories any name they choose which fits their own brand voice, that their audiences would enjoy.  
We talk about in What To Ask For From Amazon Influencers that your goal as a brand is to evaluate their idealists and select the best one for your product when you partner with them. 
The social media component is called Photos.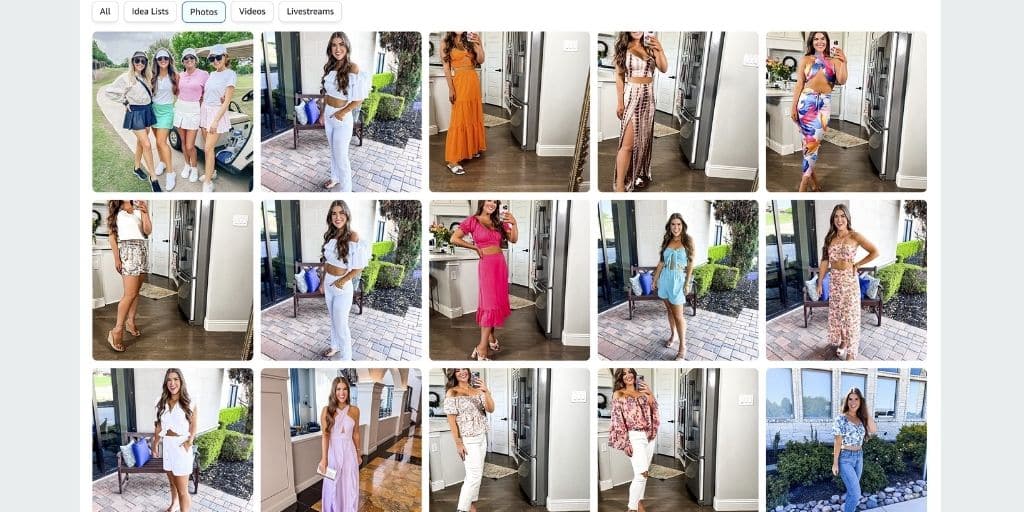 Amazon Influencer Storefront Photos
One of the best ways to highlight the products that the Amazon Influencers enjoy is through photos.  
Amazon Influencers have feeds of photos they take, similar to Instagram.
Also similar to a social media network, when you click on a particular photo, you can directly access and buy the products the Amazon Influencer is showcasing.
What's more, when Amazon Influencers use the hashtag #FoundItOnAmazon they are eligible to be featured on the #FoundItOnAmazon feed page directly on Amazon.com.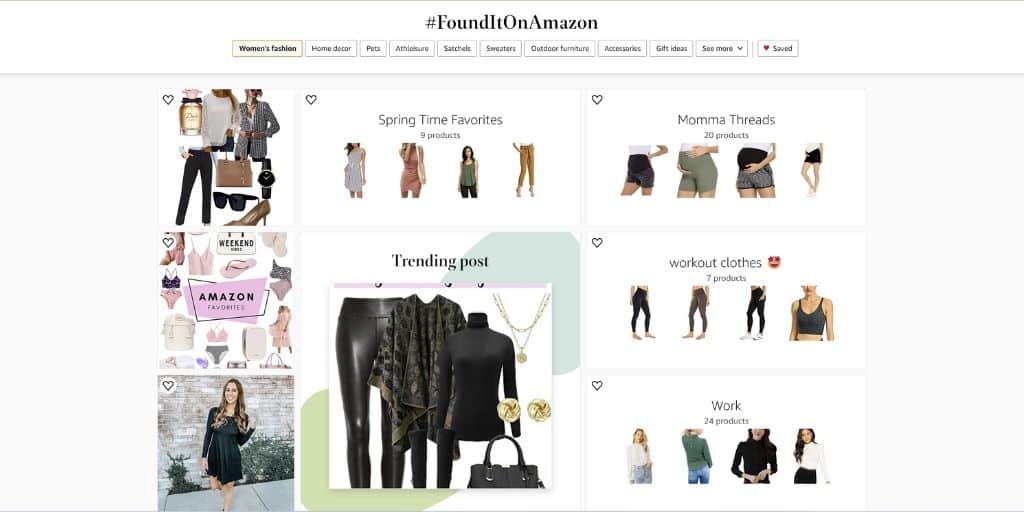 Many popular product categories can be included on the #FoundItOnAmazon dedicated page on Amazon, with more being added regularly.  
Speaking of the best ways to showcase and sell a product, enter video.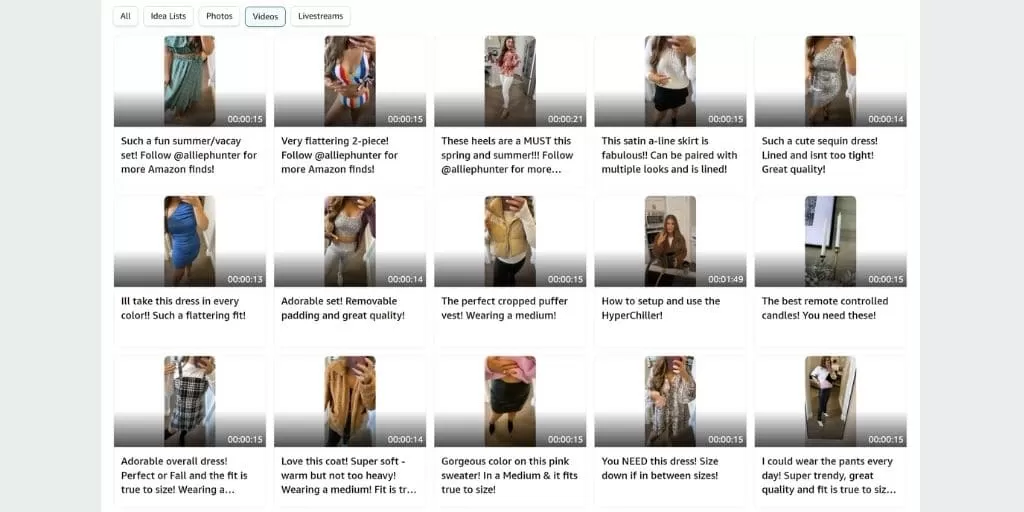 Amazon Influencer Storefronts Video
Amazon Influencer Storefronts can have 2 forms of video, "Videos" pictured above and "Amazon Influencer Live Streams" covered next.
Amazon Influencer Storefront Videos are short-form content, similar to TikTok meant to feature and highlight products.
Like photos, when you view an individual video, you can easily purchase the products directly referenced in the video.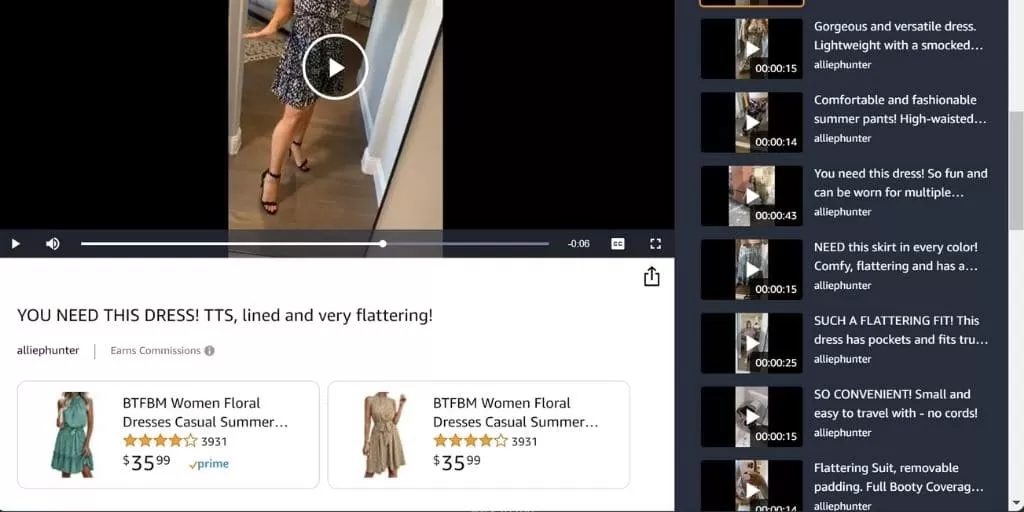 One of the best features of Amazon Influencer Storefront Videos, similar to TikTok, they make it simple and enticing to keep watching. 
We mention in How To Evaluate Amazon Influencers you'll want to watch a few of their videos to gauge how good of a job  
That said, Amazon does have its own live streaming platform, called Amazon Live which also appears on Amazon Influencer Storefronts as "Live Streams".
Amazon Influencer Storefront Live Streams
Amazon Live Influencers have Amazon Influencer Storefronts where they demo and highlight products, similar to QVC or the Home Shopping Network.  
These videos are long-form and oftentimes showcase many products unless otherwise sponsored to only feature one.  
Amazon Live streamers have powerful audiences on various social media platforms, which they use to drive their audiences back to their Amazon Live streams.  
It's incredibly easy for Amazon Live influencers to facilitate sales. 
When viewing Amazon Live streams, shoppers can view the products that are being featured at that time in the video right underneath the video, click and buy them. 
To see Amazon Live in action, let's take a look at some Amazon Influencer Storefront examples.