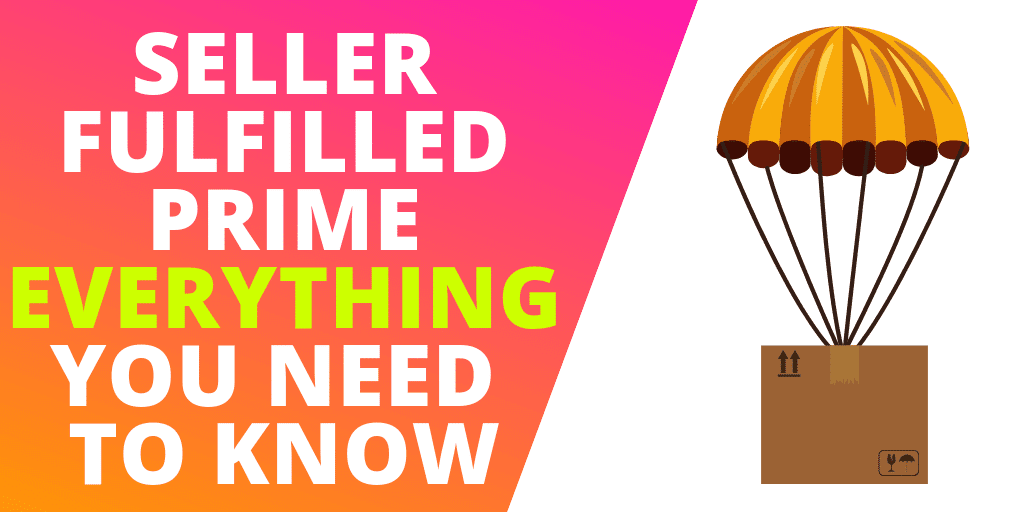 Seller Fulfilled Prime: EVERYTHING Amazon Sellers Need To Know [GUIDE & INFOGRAPHIC]
Amazon Seller Fulfilled Prime allows Merchants to fulfill orders themselves, giving customers free 2-day shipping with merchants product listings having the Prime eligible badge.

---

Merchants can achieve Seller Fulfilled Prime through successfully completing a 90 day trial period.

---

 This is EVERYTHING Amazon Sellers need to know to make an educated decision on if Seller Fulfilled Prime is a good fit for your business.

---
What is Amazon Seller Fulfilled Prime?
Seller Fulfilled Prime is the program for Amazon Seller Central Sellers using Merchant Fulfillment to offer free 2-day shipping and get the Prime badge on their product listings.  To get Amazon Seller Fulfilled Prime, Amazon Seller Central Sellers simply register with Amazon and then enroll in a 90 day Trial Period.  Once the trial period is successfully completed, you are in Seller Fulfilled Prime and the Prime badge appears on your listings.
Selling on Amazon Seller Central with Merchant Fulfilled listings competing against Amazon FBA Prime Eligible listings is like a goldfish against a great white shark.  It's TOUGH!
In this article, I'm going to tell you everything you need to know about Seller Fulfilled Prime so you can decide if Seller Fulfilled Prime is right for your business or maybe perhaps stick with Amazon FBA or Merchant Fulfillment.
You're going to learn:
Seller Fulfilled Prime is one of the most frequently brought up topics by my clients because it's so intriguing.
The Prime badge on listings skyrockets click-throughs and conversion rates, significantly improving Amazon Listing Optimization so the power in this one time Vendor Central only then Seller Central only program is obvious.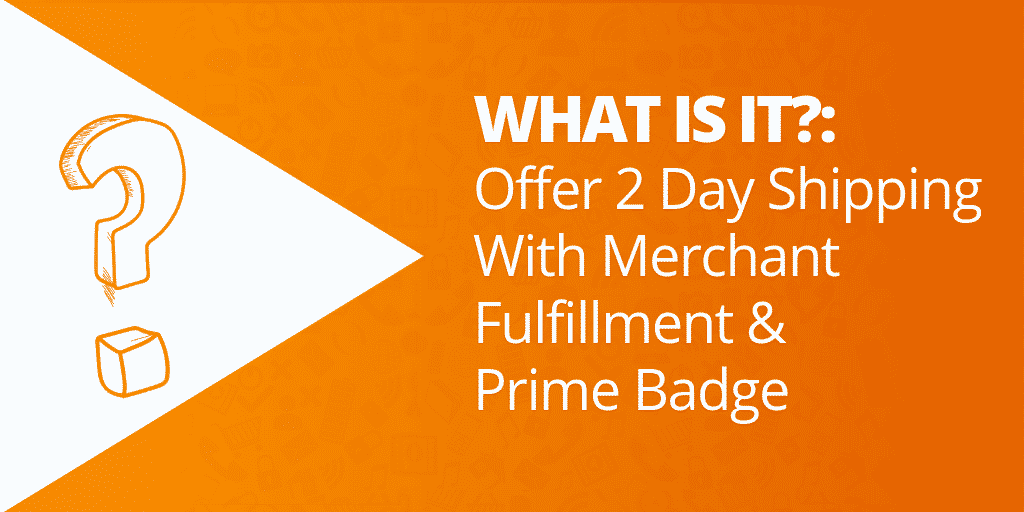 What is Seller Fulfilled Prime?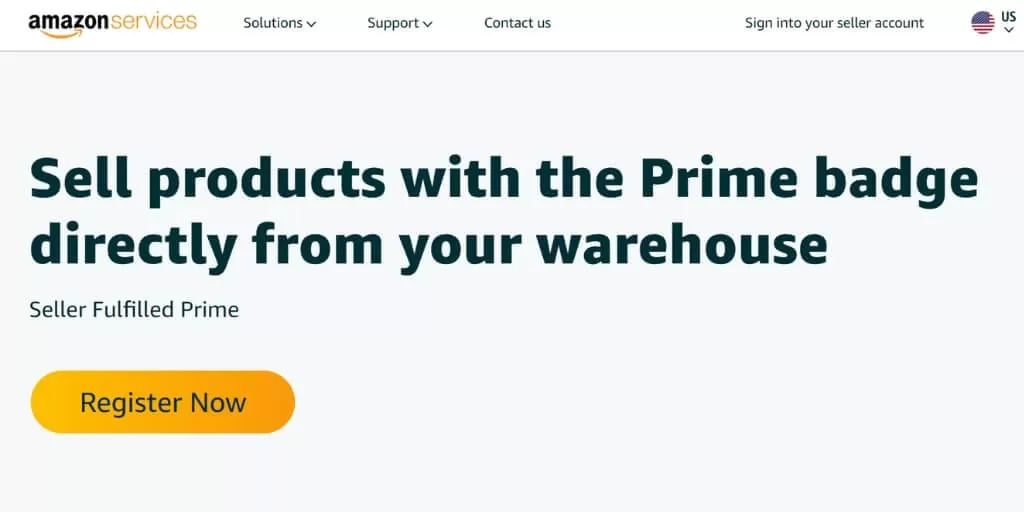 Amazon Seller Fulfilled Prime allows Amazon Seller Central Sellers to offer 2 Day Shipping to their customers and get the Prime badge on their listings when using Merchant Fulfillment instead of Amazon FBA.
In the past, Prime was only eligible for Vendor Central sellers or Seller Central sellers using Amazon FBA by invite only.  Now, this powerful program is eligible for ANY Seller Central Seller to register.
Amazon FBA (Fulfillment By Amazon) if you're not familiar, is the Amazon program offered to Seller Central Sellers where sellers send their inventory into fulfillment centers across the country (multiple countries) and when orders come in, depending on where the customer is located, it is sent from the fulfillment center closest to them.  This allows Seller Central Sellers to get the Prime badge on their listings and offer Free 2 day Shipping.
The Traditional Amazon FBA Process:
You create or have product listings on Amazon
You send the inventory into Amazon Fulfillment Centers
A customer places an order
Amazon picks, packs & fulfills the order to the customer
Amazon also handles the customer service
Returns are facilitated through Amazon

If you want an in-depth break down of Amazon FBA and if it is a great fit for your business, you can check that out here:  How Does Amazon FBA Work
The Seller Fulfilled Prime Process:
Either as a new seller or established Seller Central Seller, you register for Seller Fulfilled Prime
You complete a 90 day trial period.  (more on this later)
You are eligible for the Prime badge and offering free 2-day shipping to customers
Customer places an order
You fulfill the order from your warehouse
Amazon handles most of the customer service, you handle some
Same return process as Amazon FBA
By now, you're thinking that's great… for the customer.  That's just part of the story.
You already know there are fees associated with Amazon FBA, so you're thinking:
What qualifications do I need to meet in order to make this happen?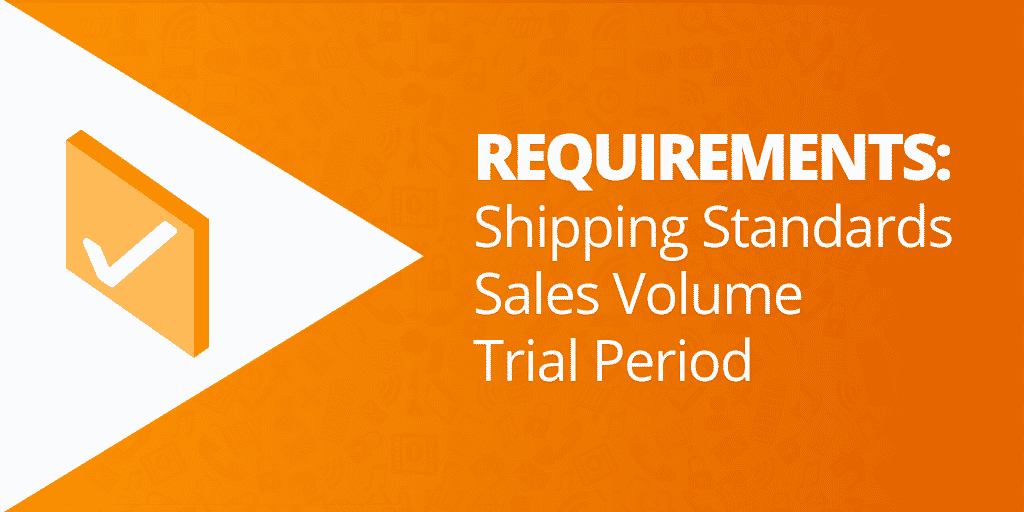 Seller Fulfilled Prime Requirements & Qualifications
As it turns out, it's pretty straightforward.
You simply register for the program, meet the qualifications during the 90 day trial period and you're off to the races.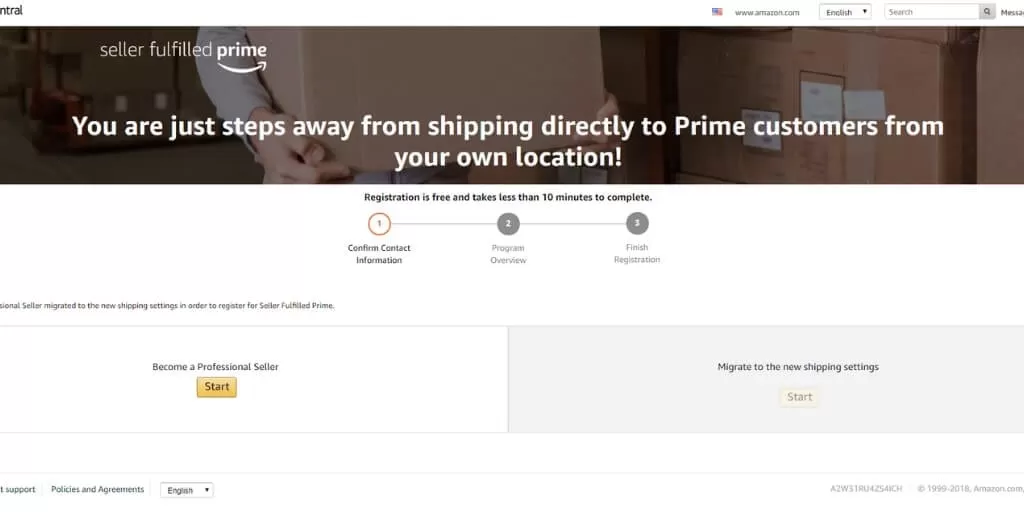 Seller Fulfilled Prime Qualifications:
Sellers register for a 90-day trial period.
Sellers listings DO NOT have prime badge during this trial time period.
Sellers need to complete 200 orders in 90 days.
Sellers need to use the free Prime shipping template and provide 2-day shipping to Prime members.

Sellers CAN SET the areas/regions where they will offer 2-day shipping.

Sellers need to provide FREE Standard Shipping to ALL customers in Continental U.S.
Sellers need to maintain 99% on-time shipment rate. (1 out of every 100 can be late)
Seller answers pre-sale and product support related questions.
Sellers need to use Amazons Shipping Service for 95% of orders.  

Sellers need to purchase shipping using Amazon's "Buy Shipping Service"
Sellers CAN link their own UPS account which will allow them to use any previously negotiated rates they already have.
While shipping is discounted, it isn't as deeply discounted as sellers receive when shipping products to Amazon fulfillment centers in Amazon's FBA program. Third party shipping software & apps can still use the Merchant Fulfilled API.

Order need to be shipped the same day. Orders need to ship from seller's location by 2 pm local seller time.
The seller can choose which products they want to include in the Seller Fulfilled Prime program.
Sellers need to have LESS than 1% cancellation rate. (seller cancels the order — not the customer)
What if My Business Doesn't Meet ALL of the Qualifications & Requirements During The 90 Day Seller Fulfilled Prime Trial?
You start over again from day 0.
It's not a 1 and done scenario, you can try again, over and over.
The biggest one for some folks is:
What if My Business Doesn't Get 200 ORDERS During The 90 Day Seller Fulfilled Prime Trial?
You start over again from day 0.
If you're struggling here, I recommend adding Enhanced Brand Content, Amazon Product Listing Video and an Amazon Storefront to help you hit the 200 sales minimum.

Fair enough?  In my experience, one of the biggest questions about Seller Fulfilled Prime is how do returns work?

How Do Returns Work For Seller Fulfilled Prime?
Good news!
As it turns out, they're the same as the Amazon FBA program returns.
Seller Fulfilled Prime Returns Process:
Returns are auto-authorized.
SELLER PAYS FOR RETURNS WHEN:
The box or envelope isn't damaged, BUT the item is damaged
Missed delivery date
Missing parts & pieces
The box or envelope AND the item are BOTH damaged
The wrong item is sent
Item is defective or does not work
Extra item arrives that was NOT ordered
Unauthorized purchase
The product description on Amazon was not accurate
Item was damaged during shipping
Item was damaged due to ineffective packaging
BUYER PAYS FOR RETURNS WHEN:
Accidental order by the customer
Better price available elsewhere
No longer needed or wanted by the customer
Performance or quality not adequate to customers expectations
Incompatible or not useful for the intended purpose of the customer
Item or part not compatible with the existing system
Excessive installation deemed by the customer or the customer did not install
CATEGORIES IN WHICH SELLER PAYS SHIPPING NO MATTER WHAT:
Apparel
Jewelry
Loose stones
Luggage
Shoes
Watches
Baby items
My experience is that some clients have seen more returns when they use FBA.  However, they also see more sales when they use FBA.
That being said, you're probably crunching numbers as you read this and thinking to yourself:  "Is Seller Fulfilled Prime worth it?"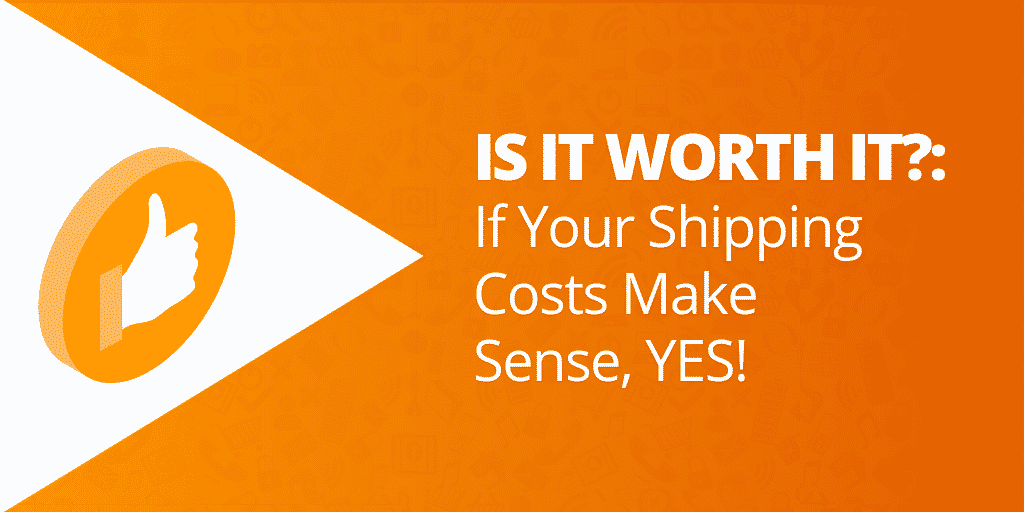 Is Seller Fulfilled Prime Worth It?
Short answer:  If the numbers make sense, a resounding YES.
Why is Seller Fulfilled Prime Worth It?
Have a look at this: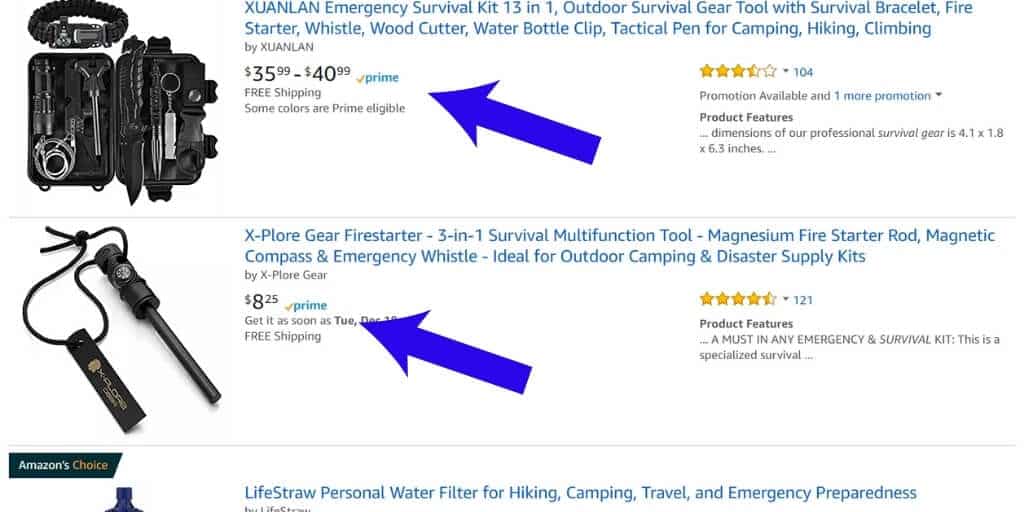 These are the top 2 organic listings for the term "survival gear".
Notice the "Prime" badges?
The Sponsored Listings above them which you can't see and also the Amazon's Choice listing for the Life Straw which is cut off also are Prime.
My point?
Amazon Prime gets more clicks & more sales.
We're Giving Away Our Process To Get Amazon Influencers.
We'll trade you a proven step by step process to drive Amazon sales quicker & easier for an email.  Tradesies?
Most customers search on Amazon and filter for Prime, meaning they filter OUT  any Merchant Fulfilled listings.
When talking about how to reduce your ACoS on Amazon I highly recommend using Amazon FBA for Prime.   Your Amazon Sales Rank will thank you for it.
The truth is, it's nigh impossible to compete with Prime listings / FBA listings / Vendor listings with Merchant Fulfilled listings.
Customers view non-Prime listings almost like EBAY or Facebook Marketplace.  2nd place.
If the numbers make sense for your business and you can meet the requirements, you will see more sales.  Period.
It makes even more sense for certain types of products.
For instance, if you have perishable goods that need to ship right away anyways, it makes sense to get the Prime badge and do Seller Fulfilled Prime.
Or, if you have certain products that CANNOT BE STORED IN FBA WAREHOUSES at certain times or at all, like certain vitamins & supplements for example.
If you didn't know, FBA Warehouses get HOT, over 100 degrees Fahrenheit at times.  They are not climate controlled.
If the numbers don't make sense on your end, but they DO for Amazon FBA.  I would give it a strong look.
Consider this:
Seller Fulfilled Prime or Amazon FBA gives you the Prime badge on your listings.
The Prime badge gets more clicks and more conversions.
More conversions get you more organic visibility /

Amazon SEO

More organic visibility gets you more sales.
Rinse & repeat.
On the other hand, you do give up a lot of control to Amazon and 200 orders in 90 days isn't easy for everyone, especially new sellers.
Still, the sales volume and brand exposure can be significant.
There are many shoppers out there who won't buy things UNLESS they are on Amazon and Amazon is the FIRST PLACE people go to make a purchase in some cases.
That being said, let's make this a little easier.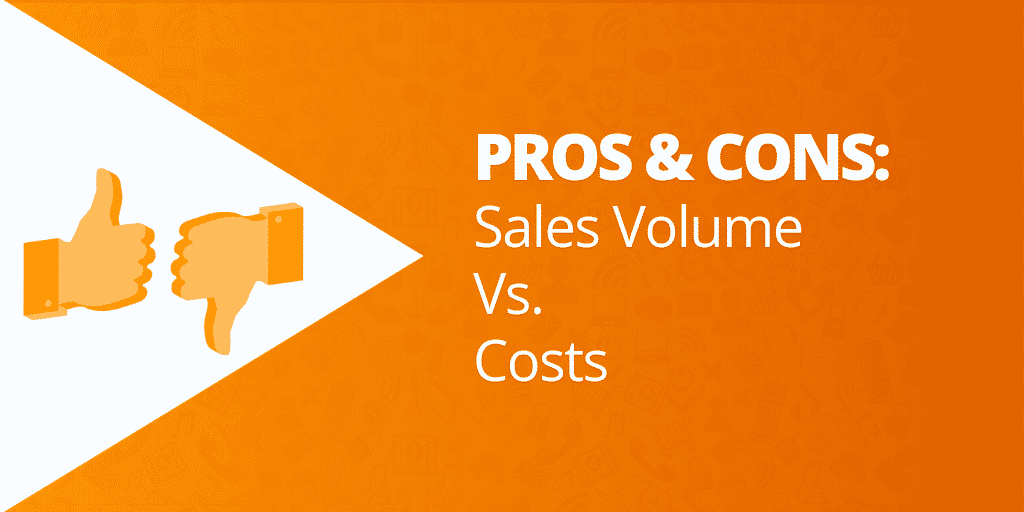 The Pro's and Cons of Seller Fulfilled Prime
When we're looking at Pro's and Cons it's about Seller Fulfilled Prime vs. the alternatives.  The alternatives being, Amazon FBA or Merchant Fulfillment.
Seller Fulfilled Prime Pro's:
---
Prime badge on product listings
Increased click throughs and conversions
Customer perception is increased significantly
Brand visibility
Easier returns for customers which means more conversions
Many items cannot be stored in Amazon Fulfillment Centers anyways due to temperature control & more, this allows you to still offer Prime 2 day shipping
Great middle ground between Merchant Fulfillment and Amazon FBA
You can limit which products are in the Seller Fulfilled Prime program, it does not need to be all of your inventory
You can limit where you will and won't ship to via Prime
Seller Fulfilled Prime Cons:
---
Expensive
May need to raise prices to account for increased COGS
If you're selling

Amazon B2B

you can make Business Only SKU's that B2C customers won't see.
Price increase may push you out of buy box
Price increase may decrease click-throughs to your listings and also decrease purchases
Seller needs to adhere to a strict set of guidelines and rules or lose eligibility
Returns are automatic and strongly in favor of the customer
In my experience, the Prime badge makes all of the difference on listings in terms of getting clicks and getting sales.
There is an inherent trust that comes with having your products on Amazon as the end customer is not familiar with the inner workings of Vendor Central, Seller Central, Amazon FBA, Merchant fulfillment etc.
BUT
A customer can easily distinguish if a listing is eligible for free 2-day shipping with Prime or not and that DOES matter to them.  The Prime badge is like a badge of honor as well in that Prime-eligible products are viewed as superior to non-Prime.
There are still some other odds and ends though and the story isn't complete.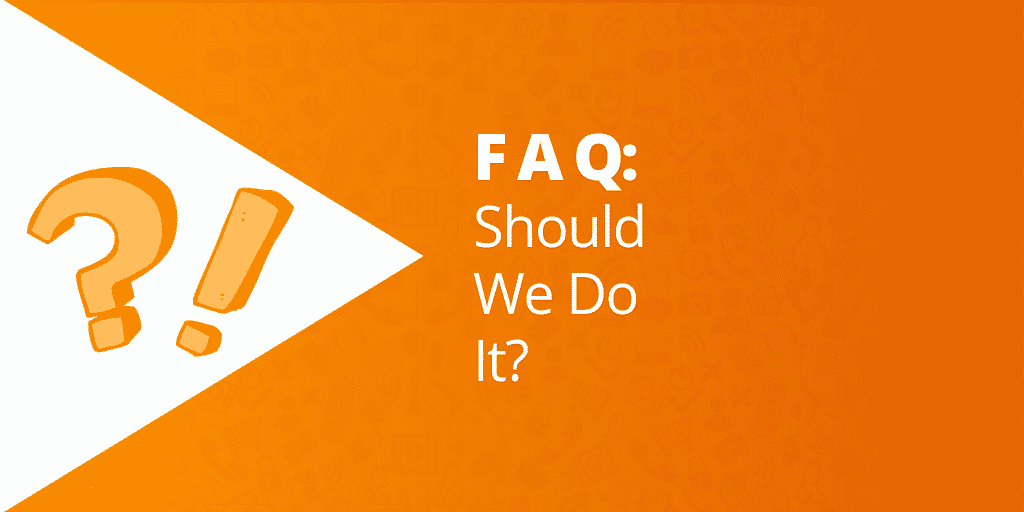 Seller Fulfilled Prime FAQ
How Do I Tell as a Customer If a Seller is Doing Seller Fulfilled Prime or Amazon FBA?
You can't.  They are indistinguishable from one another.
Can Brand New Sellers Apply For Seller Fulfilled Prime?
Was Seller Fulfilled Prime Always Open To All Sellers?
No, it started for select Vendor partners.

Then, it became invite only to select Seller Central Sellers.
Then it became available to all via a registration and trial basis.
How Many Times Is My Business Allowed To Keep Trying The Seller Fulfilled Prime Trial?
As far as I can tell, indefinitely.  This may change.
If you struggle to meet the 200 sales minimum during this time period, strongly consider Amazon Listing Optimization to drive those sales.
Seller Fulfilled Prime:  Available To Everyone, Perfect For Many
Ultimately, the numbers will tell you if Seller Fulfilled Prime is for your business.
You may need to build those costs into your price and that may price you out of the buy box or if you are a brand with control over your listing, it may price you out of competition with your closest competitors.  It may not.
The truth is, this can be a happy middle ground for many Amazon sellers between Amazon FBA and Merchant Fulfillment.
AMAZON SELLER FULFILLED PRIME INFOGRAPHIC – Seller Fulfilled Prime Requirements:
[sociallocker id="37579″]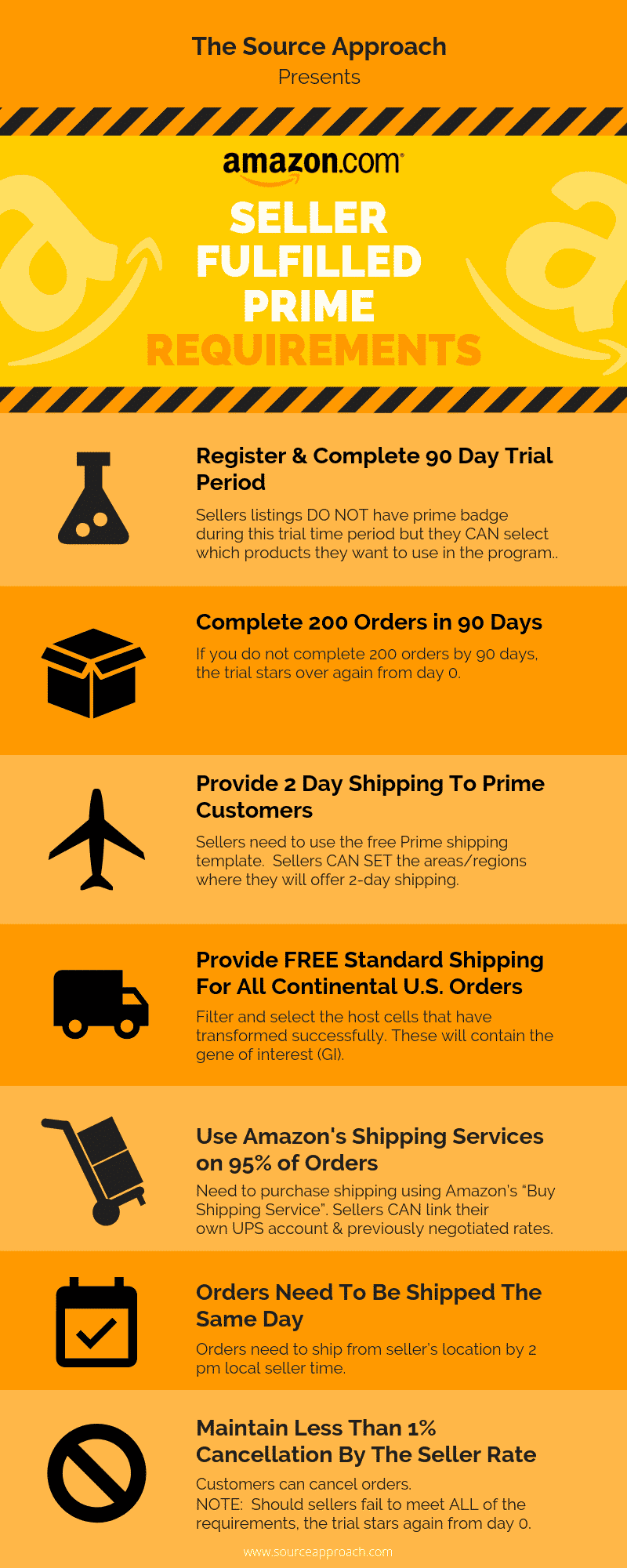 Share this Image On Your Site
[/sociallocker]