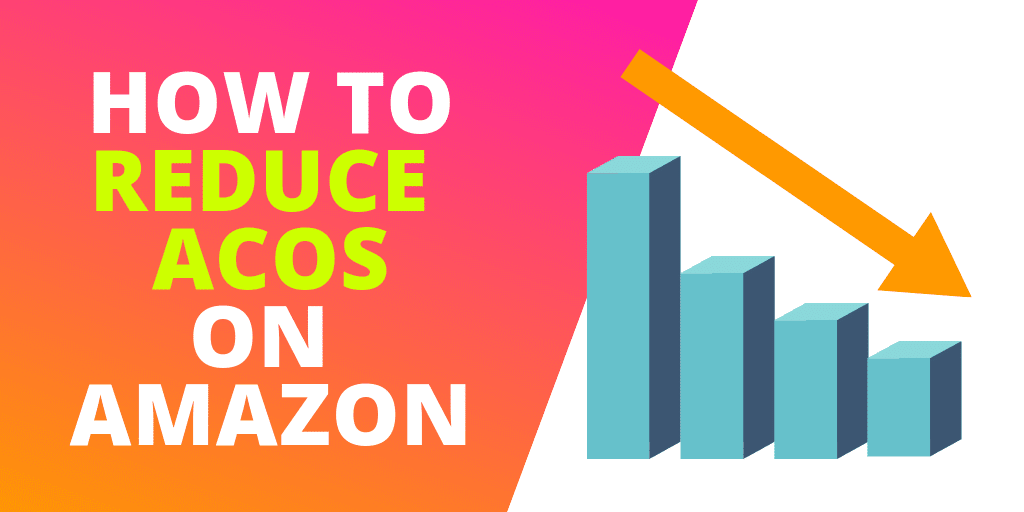 This Is How To Reduce ACoS (Average Cost of Sale) on Amazon
ACoS is Average Cost of Sale.  Displayed as a percentage, (the lower the better) Amazon ACoS tells you how effective your Amazon ads are.

---

Reduce ACoS on Amazon through improving your ad targeting, your product listings copywriting, imagery & more.

---

 Reduce ACoS and you will have spent less to sell more. This is EXACTLY how to do just that.

---
Whether you're an Amazon Seller Central Seller or Amazon Vendor Central Seller, paying a ton for ads on Amazon with a high ACoS is stressful.  So stressful in fact, it can make your eyes water when looking at your Amazon campaign reports and seeing a high Average Cost of Sale (ACoS).
You're going to learn PROVEN methods from an Amazon Seller / Amazon Consultant with over 10 years experience that are WITHIN YOUR CONTROL to reduce your ACoS on Amazon.
You'll be able to reduce your ACoS on Amazon by focusing on:
A quick throughline to this article:  You'll immediately notice that reducing average cost of sales on Amazon is about Amazon Listing Optimization.  In other words, optimizing your listings as well as ads for the best possible conversions.
So, where should you begin?
Get more reviews.  Article over.
That may be a joke but there is significant truth in it.  The higher quality and QUANTITY of your reviews, the lower your ACoS.
That being said, let's focus on some items you can start to control right away.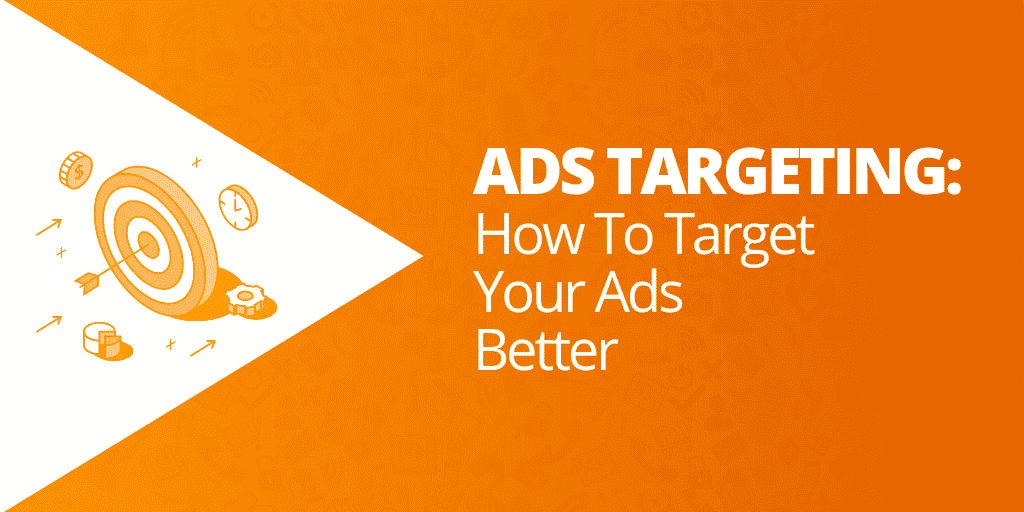 Amazon Ads Targeting
In my experience, the very first place to start to reduce your ACoS on Amazon is the front lines.  The ads themselves.
Make sure you're targeting the right customers and not showing ads to the wrong potential customers.
Naturally, your average cost of sale will go down if you are targeting potential customers that want to buy rather than those in the research phase or looking for something, in particular, that isn't what you're offering.
How do you find out?
Negative Keywords
Whether you're running automatic Amazon ads on your Sponsored Product Listings or manually targeting customers with your own keyword research, you will want to always optimize these.
Here's how:
How To Set Amazon PPC Negative Keywords:
Run your search terms report
Identify  the terms that are driving clicks, but not converting sales
Determine which of those keywords are not relevant for your products or likely don't make sense.
Add them to your Negative Keywords List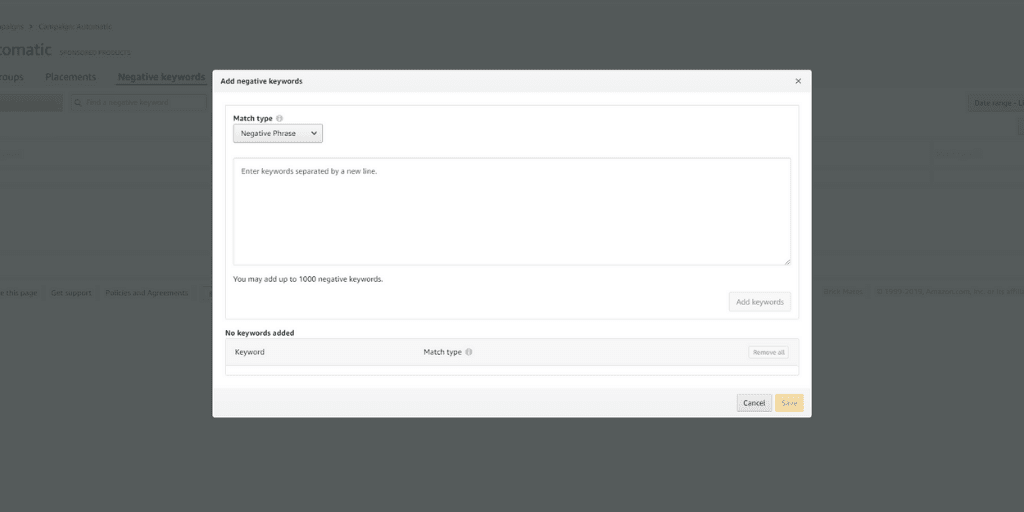 Negative keywords are a powerful tool to make sure you aren't wasting precious clicks on potential customers that are just doing research or looking for something completely different.
This will reduce your ACoS on Amazon by helping filter out people who aren't a good fit to buy.
What else helps influence getting the correct people to click on your ads?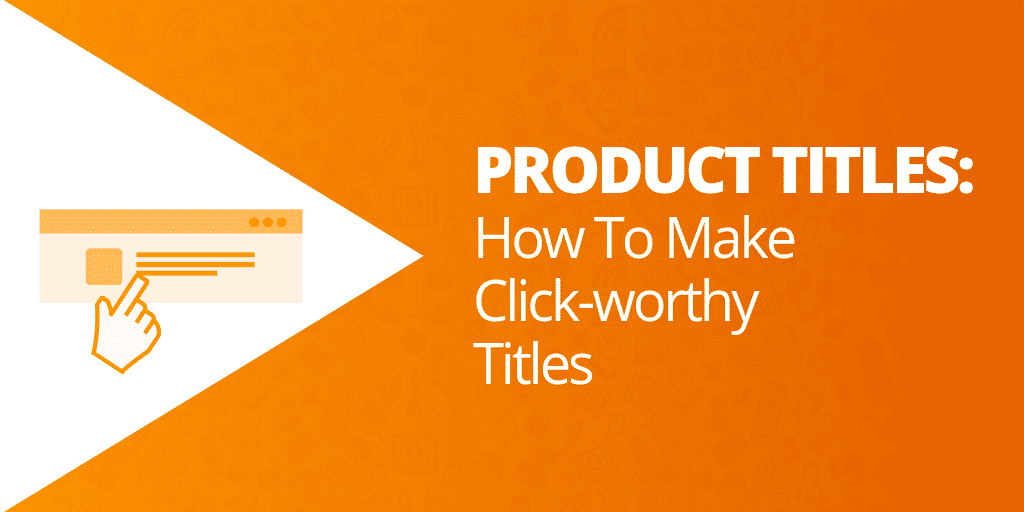 Amazon Product Titles
A great way to filter out people who shouldn't be clicking on your Amazon ads is by keeping your titles ultra focused.
Besides the reviews and the image, the product title is the main determining factor of a click through for Amazon Sponsored Listing ads.
Your Amazon Product Title should do a lot of the selling for you if done correctly.
A Great Amazon Product Title:
States the brand
Focuses on Benefits & Key Features That Give Competetive Advantages
Answers Questions
Overcomes Objections

By crafting a great Product Title on Amazon, you are doing your part in making sure people who aren't a good fit to click on your product, won't.
Now, you've got the right people to click through, how else can you reduce ACoS?

Amazon Product Bullet Points & Product Descriptions
After a customer has landed on your product listing, generally speaking, they immediately begin to consume the content of your bullet point section.
From there, they then may scroll down to evaluate the Product Description area to find other details not mentioned in the Bullet Points.
If you have a poor Average Cost of Sale, this is where you want to start as far as things you can control on your listing.
Amazon Bullet Points Should:
Focus on main benefits first.
Focus on key differentiating features second.
Answer key objections or common customer questions third.
Focus on displaying ease of ownership or how to use fourth.
Mitigate buyer risk fifth.
Usually, a customer will make a purchase by this point if you did a good enough job with your Amazon Listing Optimization and your images, which we'll discuss next.
If not, you still have more opportunity!
Amazon Product Descriptions Should:
Focus on key product features.
Clearly spell out how to use.
Reinforce key benefits.
Make specifications easy to understand.
Reinforce your mitigation of buyer risk.
Besides being a great place to include a lot of great keywords for Amazon SEO your product descriptions and bullet points exist on your front line to convert a customer and reduce ACoS on Amazon.

Amazon Product Images
The quality of your product images can drastically reduce your ACoS on Amazon quickly.
Simply by leveling up from typical boring manufacturer style photos to an image set of at least 6 images (Why 6?  This is why: Amazon SEO:  Everything You Need To Know) that accomplishes the following will yield a quick improvement for your ACoS.
This is also where most folks selling Amazon B2B drop the ball, uploading lackluster images and also not enough of them on their business only SKU's.
Amazon Product Images Should:
Convey the emotion of what it feels like to use your product
Answer questions (sizing, will it fit x, y, z, etc.)
Overcome objections
Highlight key benefits
Show off the product from the most enticing angles
If your current product images on Amazon are not accomplishing these or were not taken originally with those goals in mind, then I would strongly recommend improving your Amazon product images.
Besides the angles and items listed above, there is another, easy to execute on great way to level up your Amazon product images to help reduce AcOs.
They say a picture is worth a thousand words and a thousand words is worth… a picture?
Either way, combine the 2 to create:  Notes of Distinction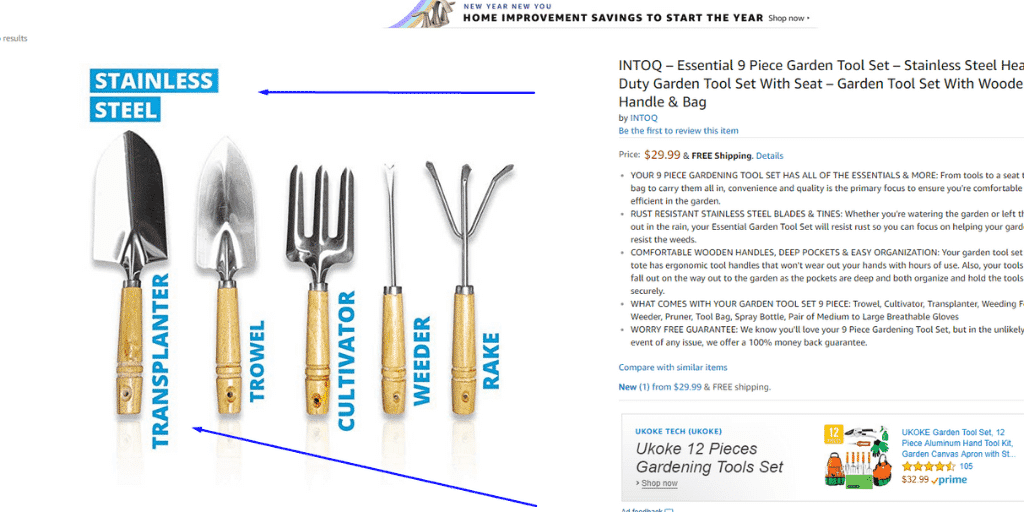 I am a big fan of MIO (Make it Obvious) and that's exactly what's going on here in the image.
If you're an avid gardener, you may know that is a Transplanter and the other is a Trowel, and you may even know what they do, but to me they're just little shovels.
Going the extra mile adding Notes of Distinction to your Amazon product photography also adds a premium feel for potential customers.
We're Giving Away Our Process To Get Amazon Influencers.
We'll trade you a proven step by step process to drive Amazon sales quicker & easier for an email.  Tradesies?
Don't mark up every product photo, focus on answering key questions or highlighting key areas of value on certain product images that could benefit from it the most.
You don't want to go overboard either.
Images can start to look cluttered in a hurry if you add too many notes and this takes away from your original intent, which is answering customer questions and calling their focus to specific areas of the product image.
If you can't seem to get your point across in product images and want to add more text to your imagery, the next section is made especially for you.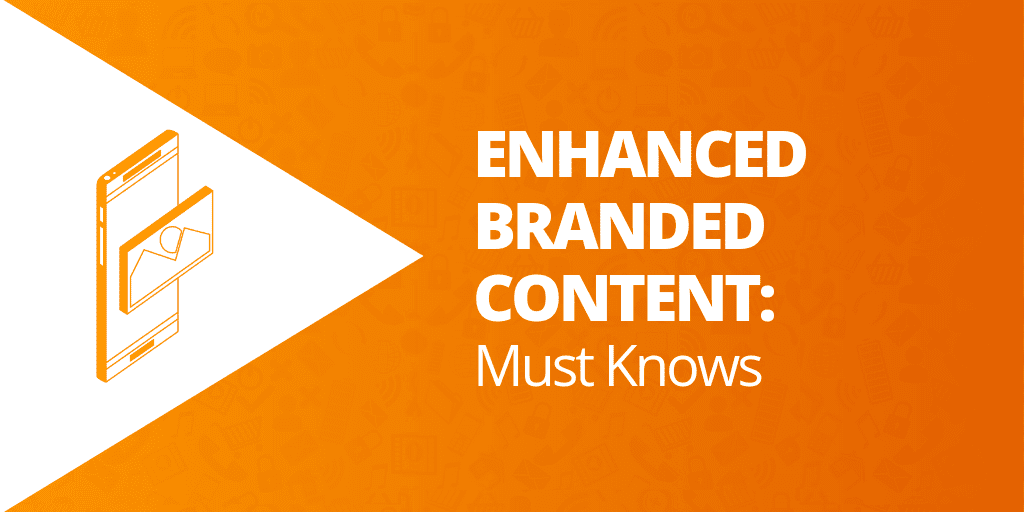 Amazon Enhanced Branded Content & A+ Detail Pages
Whether you are selling on Amazon Seller Central or Amazon Vendor Central, you have an incredibly powerful conversion weapon available to you.
Have a look at this…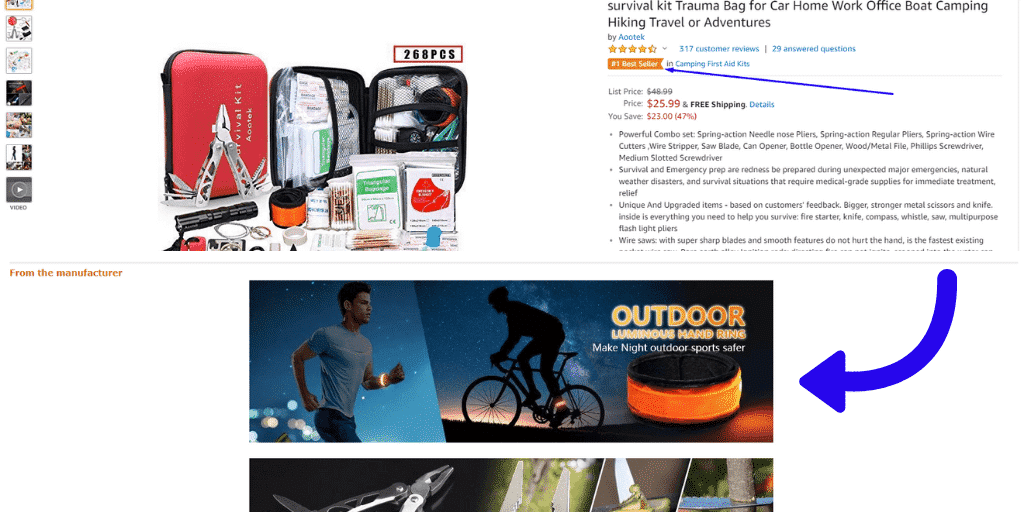 Notice on the top part of the image, you see the Best Seller badge?
Want to know why it's a best seller?
The content that follows beneath it.
If you're selling on Amazon Seller Central and are Brand Registered, it's called Enhanced Branded Content. (Learn more about Amazon Brand Registry here:  Amazon Brand Registry: The Complete Guide)
If you're a Vendor Central Seller, it is called an A+ Detail Page.
Essentially, Amazon lets you build landing pages on your Amazon listing with extra content that is not allowed in the Product Description area.
These convert EXTREMELY well because they are mini-landing pages.
Amazon Enhanced Branded Content and A+ Detail Pages play a significant role in reducing Amazon ACoS.
That being said, here are your goals with Enhanced Branded Content or A+ Detail Pages…
Your Amazon Enhanced Branded Content and A+ Detail Pages need to accomplish the following:
Enhanced Branded Content & A+ Detail Pages:
Focus on emotion, what it feels like AFTER the customer has solved their problem with your product
Highlights main benefits of the product in action
Draws attention to key features
Answers main questions
Handles potential objections to your product
Enhanced Branded Content and A+ Detail Pages are great tools to reduce ACoS on Amazon.  The extra effort on your listing is WELL worth it.
As Ferris Bueller would say "you still here?"
Well, if you are, I've got a BONUS tip to reduce your ACoS on Amazon.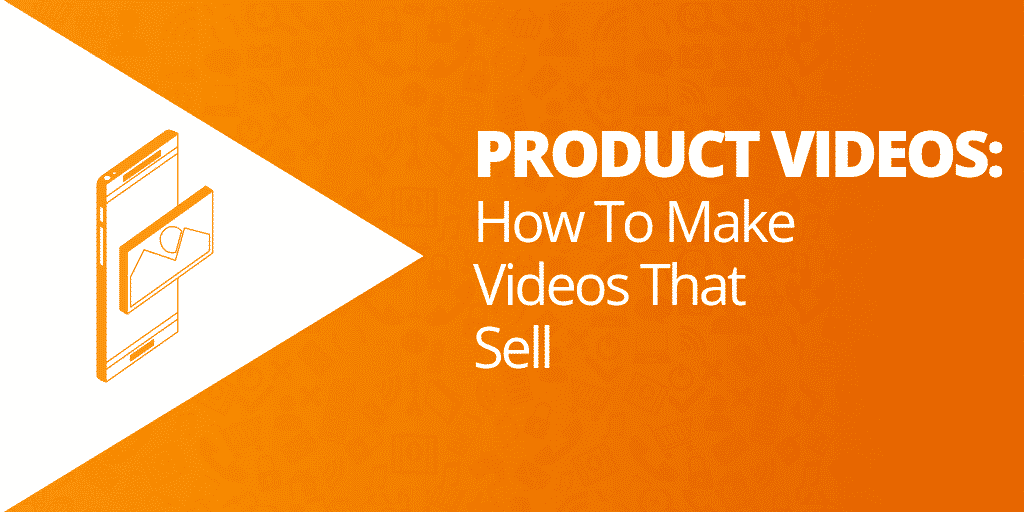 BONUS: Reduce ACoS on Amazon With On-Listing Explainer Videos
Those selling on Vendor Central have had access to this for a while now but it is starting to roll out to Brand Registered sellers on Amazon Seller Central.
Any time anyone reaches out for Amazon Seller Help one of the first questions I ask is if they are Brand Registered because I am trying to gauge what kind of tools do we have access to in order for it to be a successful project.
Having an Explainer Video changes the game.  Have a look: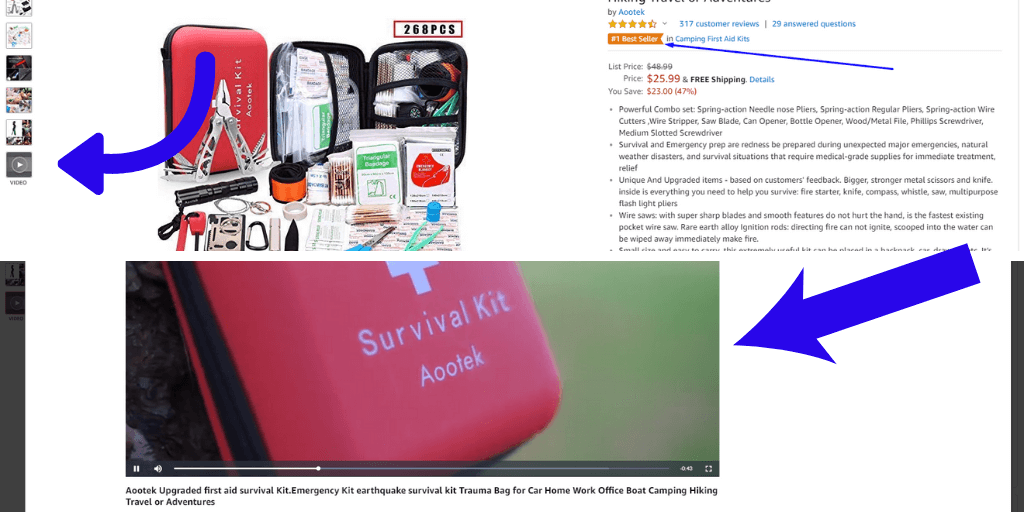 Remember that best seller badge?  Well here is ANOTHER reason why it is a Best Seller.
See the video that appears on the left-hand side in the images section?
If you click on it, you can watch a short Explainer video that does a great job at conveying the value the product brings to the customer.
Video on Amazon does wonders for your conversions, how long people stay on your listing and a multitude of other factors that are directly responsible for how high Amazon chooses to display your products in Amazon product searches.
Why does that matter?
Well, the more you show up organically for Amazon product searches, the less you will have to pay in ads, thus reducing your ACoS.
So does that mean you need to produce a full commercial with all of the bells and whistles just to reduce your ACoS on Amazon?
Not really.  Here is what you should focus on when doing an Explainer Video for Amazon.
Explainer Videos for Amazon:
Focus on Emotion
Justify with Logic
Highlight Key Benefits & Features
Answer Questions
Objection Handle
Call to Action
Now, don't just bust out the IPhone and knock out an explainer video.
There is a laundry list of things you CANNOT do on an Amazon video unless you want to violate Amazon's TOS such as adding in your website, directing folks off Amazon or adding in pricing.
Still, that being said if you have the means to produce an Explainer video.  You will definitely want to.
How To Reduce ACoS On Amazon:  The Recap
Of course, getting a ton of reviews will reduce your average cost of sale on Amazon but as far as things you can control right now, today on your listing, these will give you the biggest bang for your buck.
Reduce Acos on Amazon By:
Optimizing Your Ads
Optimizing Your Titles
Optimizing Your Bullet Points & Product Descriptions
Optimizing Your Product Imagery
Optimizing Your Enhanced Branded Content & A+ Detail Pages
Using an Explainer Video
You CAN reduce your ACoS on Amazon, it is just likely more difficult than you anticipated, but that's the great part.
Most folks aren't willing to go to the lengths that you are to succeed on Amazon and THAT is your competitive advantage.