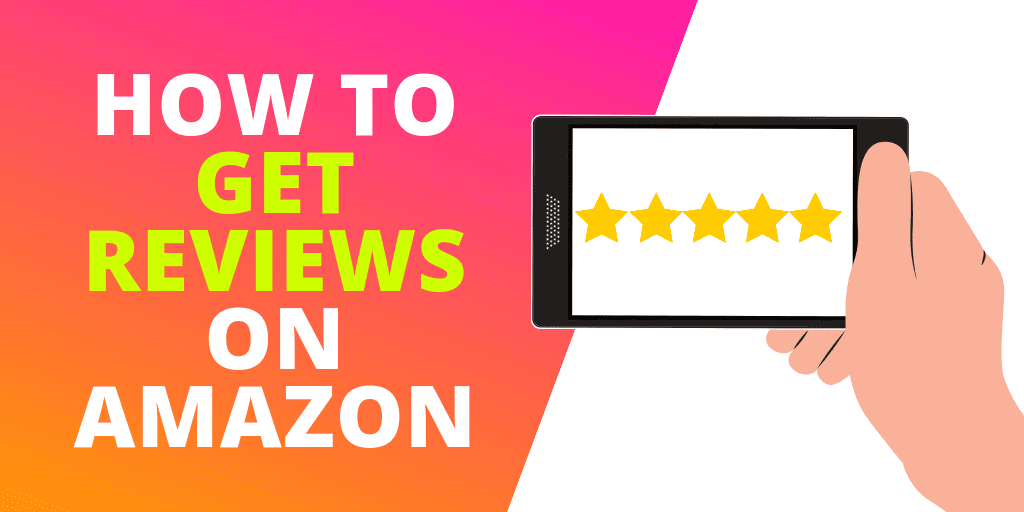 How To Get Reviews on Amazon Quickly & Easily [INFOGRAPHIC]
Getting reviews on Amazon involves inserts in your products, great packaging, an email follow up sequence, targeting the right type of customer likely to leave Amazon reviews, a few ninja tactics and a few programs from Amazon itself.

---

As of October 2016, Amazon made incentivizing product reviews or asking for positive reviews specifically, in any way a violation of their TOS and also significantly cracked down on fake reviews both manually with through AI, even going so far as to remove many of the reviews on the marketplace.

---

This article covers in-depth, proven & time tested methods, along with a few short cuts on how to get reviews on Amazon without violating Amazons TOS.

---
Getting reviews on Amazon after October 2016 is like counting grains of sand on a beach.  DIFFICULT & TIME CONSUMING.  But it doesn't have to be that hard.
As an Amazon Consultant of 10 years, I'm going to show you EXACTLY what to do for Amazon Seller Central Sellers, Amazon Vendor Central Sellers and those selling Amazon B2B that you can actually do today and that won't violate Amazon's TOS.
To make it easy, I'm going to cover:
You already know that you need Amazon product reviews but since Amazon updated their Terms of Service it has been INCREDIBLY DIFFICULT on Vendor Central and Seller Central sellers to get Amazon reviews.
But not impossible and it's honestly easier than you think.
Why Getting Reviews On Amazon Is More Important Than You Think
Did you know that the consistency, quantity & quality of your products' Amazon reviews DIRECTLY impacts how visible your product is on Amazon?  In a lot of ways too.
It's true, it's a major Amazon SEO factor. (Not sure what Amazon Search Engine Optimization is?  I published an article that lays out every single detail:  Amazon SEO:  Everything You Need To Know and I'm also an Amazon Consultant that can make getting found on Amazon much quicker & easier for you.)
Amazon Product Reviews Play These Parts in Your Success Selling on Amazon:
Visibility: Your product visibility, in other words, how likely your product is to rank on page 1 of Amazon product search results. – Amazon SEO
Click Through Rate: Your product click-through rate (Amazon CTR), in other words, when people see your product in search results, how likely they are to click on your product.  – Amazon Listing Optimization
Conversions: Your product listing page conversions, in other words, when someone clicks on an ad you ran or clicks on your listing from a product search result, go to your page and either they buy or bounce. – Amazon Listing Optimization
1) Amazon Product Visibility:
The consistency, quantity and quality of your products Amazon reviews directly impact:
How high your product ranks in Amazon related product search results.
This is for many reasons, but what matters most to you is it boils down to RPC (revenue per customer) for Amazon.
Amazon reviews directly impact if a customer buys your product or not in other words, generates revenue for Amazon or not.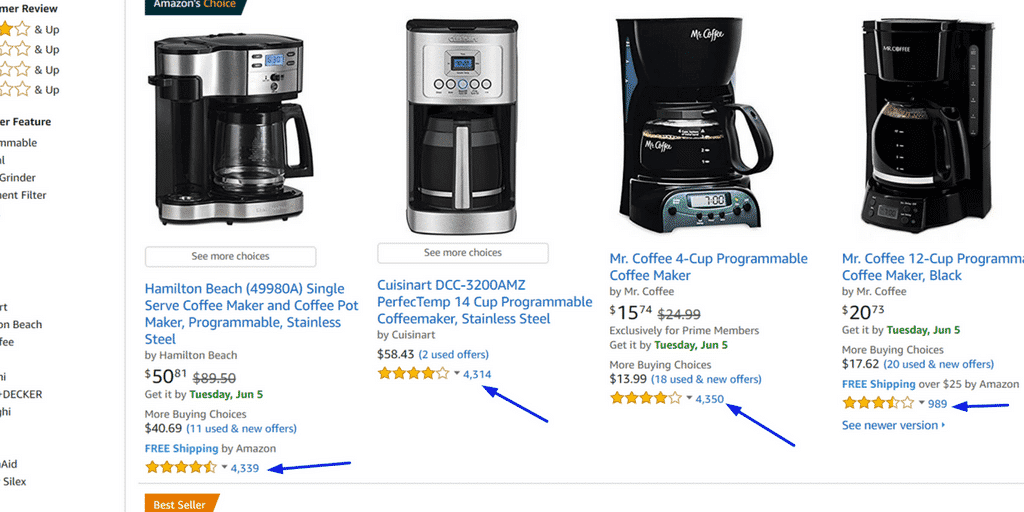 This is a search for the term "coffee maker" and the top of page 1 search results that come with it.
Notice anything here?
All of the top spots have A LOT of reviews but there is something you don't see that is the tip of the iceberg.
Amazon Review Acquisition Pro Tip:  
It's not just about quantity and quality it's about CONSISTENCY.  You need a system in place to ensure you are getting reviews on the regular.
2) Amazon Click Through Rate:
I just mentioned the impact that Amazon reviews have on buying your product or not right?  Well, in order to buy your product, they need to click on it.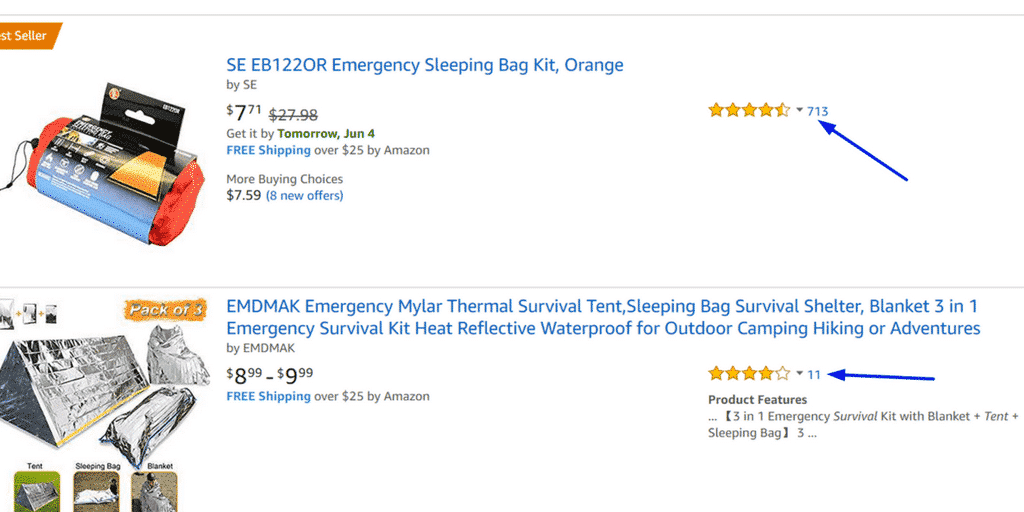 This is a search results page for "survival tent".
Which listing do you think you're going to click on?
The answer is easy, it's the one with more reviews.
Why?
Because you use the number of reviews to measure value.
Because if other people have bought the product and like it, you feel safer about it and it removes your buyer risk.
The consumer psychology of purchasing decisions heavily relies on the Tribe Mentality or Social Proof.  In other words, if other people have done it, then you are more inclined to do it.  In this case, purchase.
When talking about how to reduce your ACoS (average cost of sale) on Amazon ads, increasing your quantity and quality of Amazon Reviews is the first thing I mention because it impacts every stage.  Especially conversions…
3) Amazon Conversions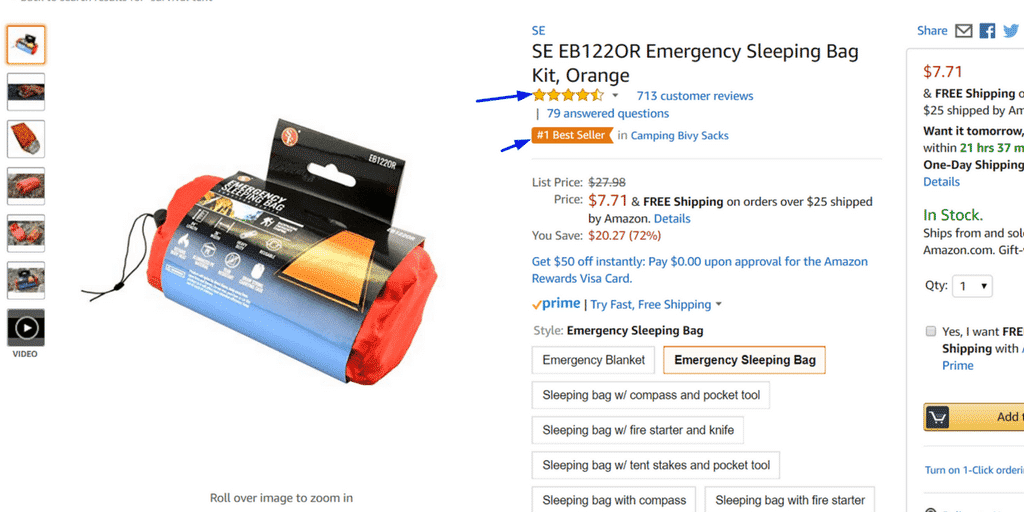 Okay, we've now clicked on that survival tent listing of 700+ reviews because, of course, we did!  You see where this is going?
Now it's time to buy but what makes us do that?  What makes us convert?
Well in this instance, Amazon product reviews significantly increase the conversion rate on a listing.
In terms of the architecture of the listing page do you see what Amazon leads with?  Not bullet points, not even price.  In terms of order of appearance, reviews come first.
Amazon Conversion Rate = How many visitors land on your listing vs. how many buy.
How can you influence conversion rates while they're on your listing?:
Partake in Brand Registry on Amazon so you can get access to powerful sales tools including:

Enhanced Brand Content
Amazon Product Listing Video
Amazon Storefronts

Make sure the back end & front end of your Amazon Product listing is optimized to convert sales with Amazon Product Listing Optimization
"That's great, I get it, I need reviews!"
"How do I get them?"
How To Get Amazon Reviews
You get Amazon reviews at different stages of the game.  There are things you can do to influence getting Amazon product reviews before you start selling and also while your listings are live and while you are actively selling.
In the not too distant past, Amazon was kind of like the wild west and you could do lots of things you may consider unethical to get Amazon reviews.
Buying them on Fiverr
Contests
Giveaways
Telling people you will give them a discount in exchange for a review
& more
Well, not anymore.  Amazon has cracked down on this HARD and doing this is a great way to get kicked off of Amazon.
So what can you do?
As it turns out, a lot.
How To Get Amazon Reviews Before You Send In Your Inventory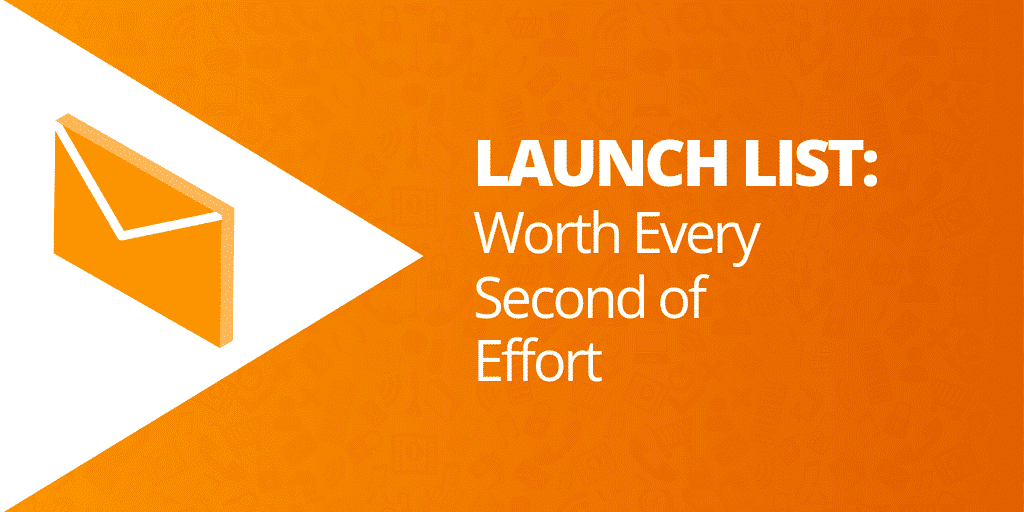 Amazon Email Launch Lists
It's no secret that an email list is your most powerful tool in eCommerce.  It's owned traffic in that it doesn't cost you an extra penny to continually market to them.
But did you know that when it comes to getting Amazon reviews that it's your secret weapon?
The concept is this:
Prior to you even launching your product, you start by building a buzz online.
You send people to a landing page where in exchange for their email address, they receive something of value to them.  A free report, a guide, a book, etc.
Leading up to your launch, you continually give them value and hype them up about your product launch.
When it launches, you let them know and link to your Amazon product listing to buy.
These customers are your early adopters and have the strongest relationship with you.  Therefore they're the MOST LIKELY to leave a review.
You see how powerful that is?
This isn't rocket science but it's rock solid fundamentals.
But wait, there's more!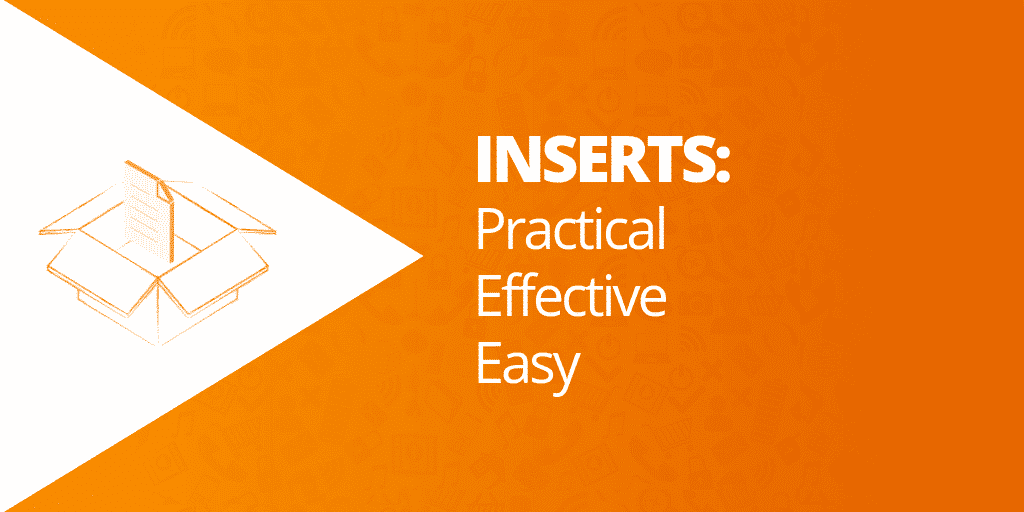 Amazon Product Inserts
Even if you are doing Seller Fulfilled Prime this applies to you.
Have you ever heard: "You don't get what you don't ask for."?
Well, the same idea for getting Amazon reviews.
Ask for the review!
How?
You know that feeling you get when you receive something in the mail, it's like a present!
You have a little smile going, you have that excited feeling in the pit of your stomach as you admire the packaging and open it up.
But that's just part of the story.
Then you open the packaging and check out what's inside.
This is the best time to influence a customer and get your marketing messages across to them.  They are riding high on receiving the product, anticipating using your product and whatever problem it solves for them and engage with your brand.
This is where you include a product insert.  
You have a few goals with a product insert.
Ask for an honest review
Direct the customer to an email or customer service page if they do have concerns and to NOT leave a negative review
Offer a coupon or an incentive for return purchases
Get the customer on your email list / in your sales funnel / social media
So, how do you ask?
The best verbiage has an emotional component where the customer feels tied to your brand and inspired to help you out.
Think:
Thank you so much for picking up PRODUCT NAME HERE.  If you loved it, it would mean the world to me if you left a review.  Reviews are our lifeblood on Amazon and help others like you find PRODUCT NAME HERE to SOLVE THE PAIN POINT YOU SOLVE.  Any concerns or questions?  Don't hesitate to drop us a line through Amazon Customer Service."
But it really goes beyond product inserts.  In truth, it all starts with…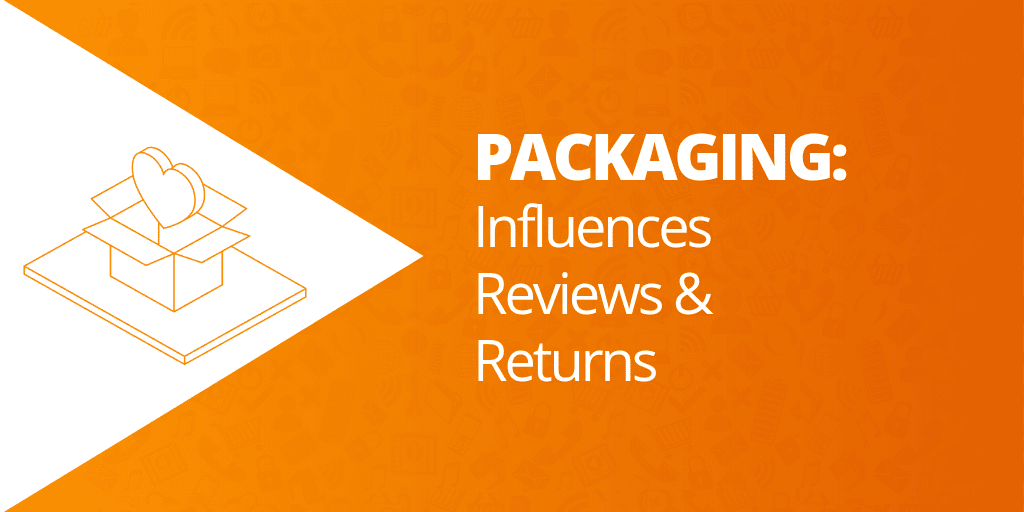 Amazon Product Packaging:
Did you know, that premium product packaging does a lot more than get you more Amazon reviews.
Investing in quality packaging for your products:
Increases Brand Credibility
Decreases Buyer Remorse
Limits Returns
Increases Product Reviews
& More
I mention in How To Increase Sales on Amazon that product packaging helps you get reviews because it helps the customers understand the value of your product through visual and tactile interaction.
If the product packaging feels and looks cheap it does not enhance the experience and limits the connection with your brand.
PLUS, think about it.  This is prime real estate you can do whatever you want with your product packaging.
Invite the customer in
Tell them what to expect
Tell them how to use the product
Ask for a review
Give a coupon
Upsell & Cross-Sell other products
& more
Want to sweeten the deal?
The nicer your packaging, the fewer returns you will get!
But let's say you're already selling on Amazon and your inventory is already in Amazon FBA fulfillment centers.
What does this mean for you?  How do you get Amazon reviews when your products are already out there selling?
How To Get Amazon Reviews On Products Live On Amazon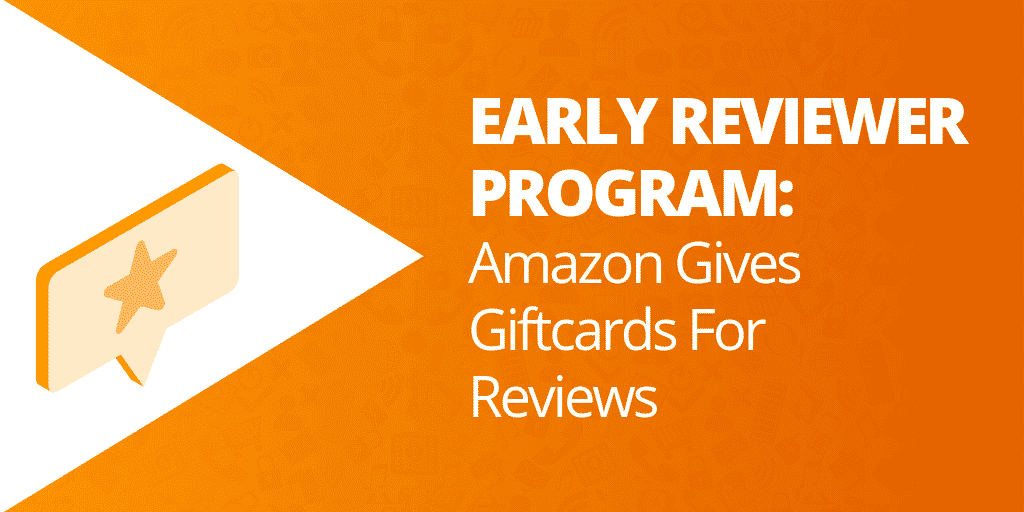 Amazon Early Reviewer Program:
Getting your first batch of reviews on Amazon is one of your toughest challenges selling on Amazon.
What if I told you that you could trade $60 to Amazon for 5 reviews on your product.  Pretty great right?
Well, Seller Central Sellers who are Brand Registered can!
Here's how:
Be a Seller Central Seller
Log in to Seller Central
Select Advertising From The Top Menu
Choose Early Reviewer Program
Enroll Your SKU's that have LESS than 5 reviews.
Amazon Emails Your Customers Asking Them For a Review and Offers a $3 Amazon Gift Card In Exchange For It
You Pay Amazon $60 To Amazon Once Your First Review Comes In
Once You Get Your 5th Review, The Process Ends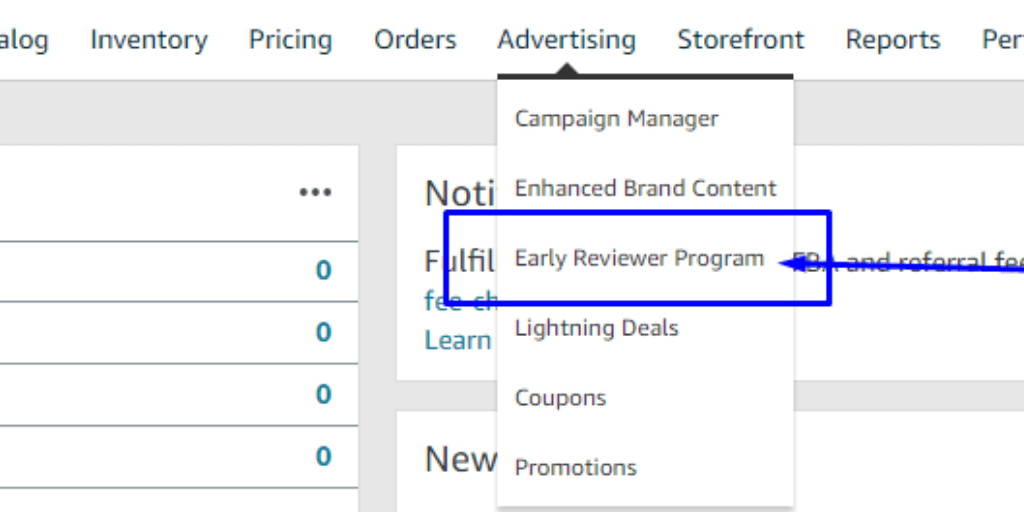 Wait a second, in October of 2016 didn't Amazon ban incentivizing reviews in any way?
Yes, yes they did.
However, other programs for Vendor Central such as Amazon Vine remained active and policed through Amazon.
Now, Seller Central Sellers can get their initial review velocity quickly, easily and totally approved by Amazon.
So, that's great, but you may be saying:
"My competitors have hundreds of reviews, sure the first 5 are the hardest to get, but then what?"
Well, here is what you do thereafter…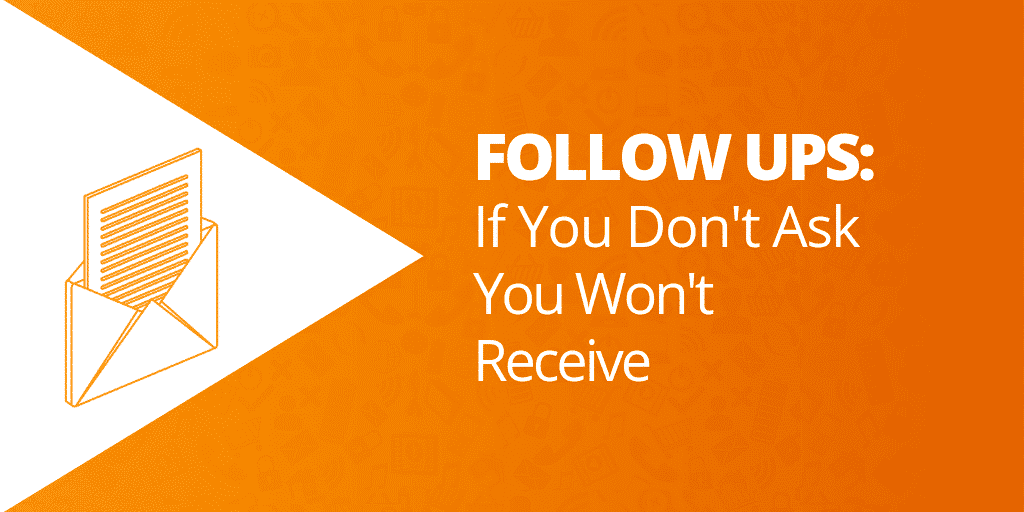 Amazon Email Follow up Sequences:
Did you know that Amazon Seller Central sellers also have access to something else awesome?
Amazon allows software developers to access their application program interface (API) to make software to do all kinds of really cool things.
Namely, helping you follow up with your customers to ask for a review.
But really, it's WAY more than that.
This is a really good tip for Amazon sellers…
If you want to get more Amazon reviews, enhance & improve your customers experience with your product.
We're Giving Away Our Process To Get Amazon Influencers.
We'll trade you a proven step by step process to drive Amazon sales quicker & easier for an email.  Tradesies?
How?
Don't stop at asking for the review.  Give tips and tricks on how to use your product.
Not everyone will read your instructions or make sense that "hey, I can also use it for this!".
Ever hear of the book Don't Make Me Think? Well it's chiefly a design related book that breaks down how simplicity sells and to not assume people know everything or anything really.
But the message rings true here.  Don't assume people know how to use your product or that they will know to leave a review.
So how do you actually do this?
I recommend:
I think they put it best:
The powerful Amazon seller tool helps sellers monitor product reviews, automatically matches reviews with orders and enables sellers to contact buyers directly to remove negative reviews from all marketplaces.
They have a no credit card required 30-day free trial where you can send 500 follow up emails and access their review management system.  It's a no-brainer.
That's nice, but what if I am a Vendor Central Seller?  How can I get Amazon reviews?
You're not left out, the added benefit of the partnership with Amazon makes things more straight forward, here's how…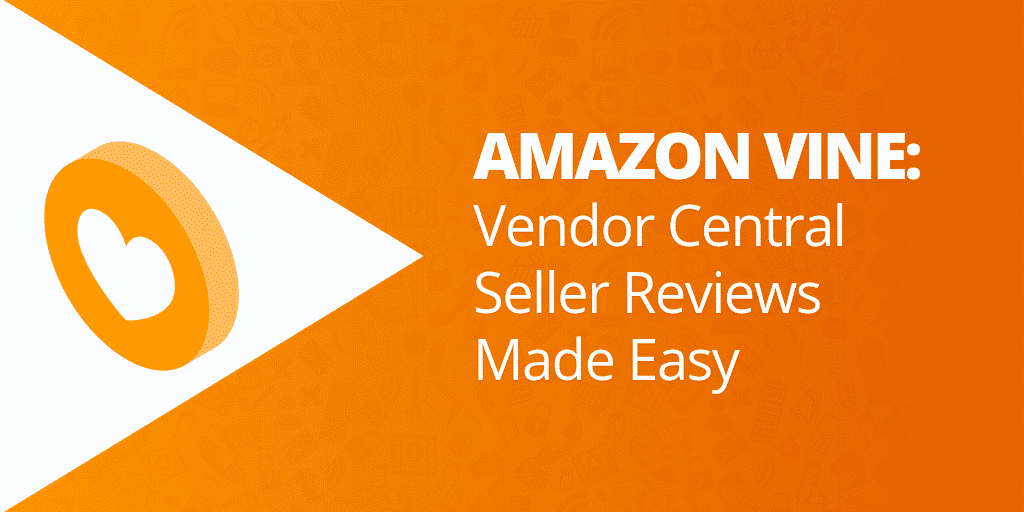 Amazon Vine Program
Review solicitation services died off after Amazon cracked down on incentivizing reviews but actually, Amazon has their own review acquisition service.  Amazon Vine.
Amazon describes Amazon Vine as follows:
"Amazon Vine invites the most trusted reviewers on Amazon to post opinions about new and pre-release items to help their fellow customers make informed purchase decisions. Amazon invites customers to become Vine Voices based on their reviewer rank, which is a reflection of the quality and helpfulness of their reviews as judged by other Amazon customers. Amazon provides Vine members with free products that have been submitted to the program by participating vendors. Vine reviews are the independent opinions of the Vine Voices. The vendor cannot influence, modify or edit the reviews. Amazon does not modify or edit Vine reviews, as long as they comply with our posting guidelines. A Vine review is identified with the green stripe Customer review from the Amazon Vine Program."
So how do you join or submit to Amazon Vine?
Amazon says:
"Amazon Vine is an invitation-only program. Vine Voices are selected based on several criteria, but primarily on the helpfulness of their reviews as judged by all other customers and by their demonstrated interest in the types of products that are featured in the program. Customers who consistently write helpful reviews and develop a reputation for expertise in specific product categories are most likely to be invited into the program."
Great!  So I'd like to join, how much does it cost?
As an Amazon Vendor you pay a fee which can range from $2,500 to $7,500 per ASIN .
Okay, how much inventory do I need to commit and how many reviews do I get?
Depending on your category, you can submit 15 to 100 units.
Vine reviewers are not obligated to leave you a review.
Target Passionate Customers
 
Did anyone ever tell you that a dollar is a dollar and any customer is a good customer?
Well, they lied to you.
When you try to appeal to everyone, you appeal to no one.
The idea is this:
Enthusiasts are passionate
They tell everyone about things they like
They purchase repeatedly from brands
They leave feedback
They leave positive feedback
You see the power in this right?
You want people like this buying your products on Amazon because this will help you get reviews on Amazon.
I guarantee whatever niche you are in, you have enthusiasts.
Focus on them and reviews will flood in and that rising tide will raise all ships because the great seller metrics and sales velocity you build focusing on those folks, makes you more visible and appealing for the broader customers.
How do you target enthusiast customers?
They are super easy to find on:

YouTube
Blogs
Social Media
Reddit
Medium
Quora
Facebook Groups
Forums
Twitch

Go there, learn how they talk, what's important to them, what they like, what they don't like.
Infuse this crucial information into your product listings and your advertising campaigns.
Go back there, engage with them and show them you're an enthusiast too, then tell them about your products for sale on Amazon.
Many of these folks are Amazon Affiliates, sometimes called Amazon Influencers.
Amazon has the largest affiliate network in the world and it's been around since 1996.
Recruit an army of them to promote your products to their massive audience of enthusiasts.
Done
Another option you have is to get creative and give up the buy box.  Let me explain…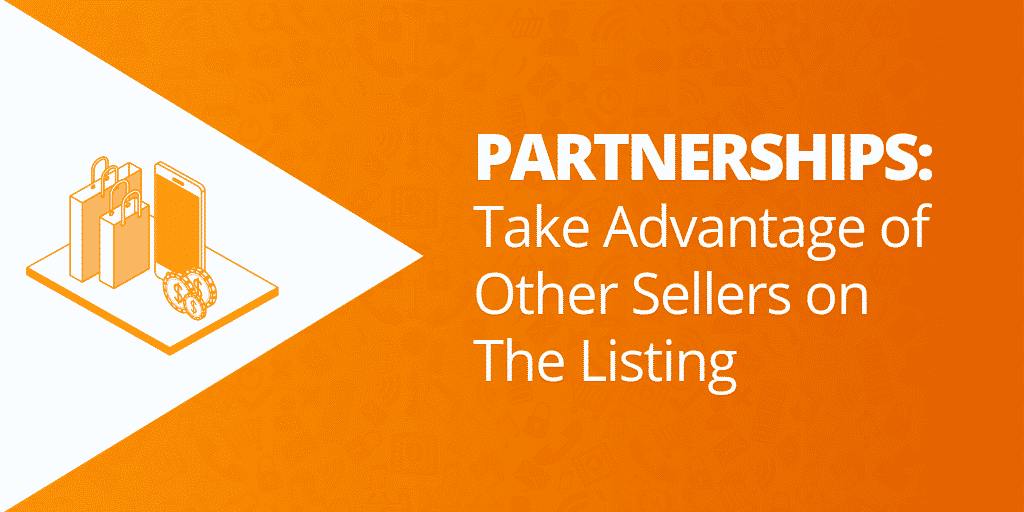 Leverage Partnerships & Other Sellers 
So odds are if you are a Vendor Central seller, you are a manufacturer/brand and you either have a multitude of retail partnerships or you are building them.
You may or may not have a MAP policy and you may or may not allow your retail partners to sell on Amazon.
BUT if you do…
They can be the review acquisition champions of the listing.
You see, you've probably been in the situation of not having the buy box.  It's frustrating and you do everything you can to get back in.  Why wouldn't you?
But in this instance, it's a good thing.
Here is how this works:
Your retail partner sells on Amazon on the same listing.  (Naturally, as it's the same product!)
They need to use FBA or it's nigh impossible to get a buy box.
They get the buy box through one of the various methods you can win the buy box.
Being the great Brand & Manufacturer that you are, you would have previously worked with your partner to ensure their success with your product on Amazon.
That includes encouraging them to use email follow up sequences to request reviews, etc.
The reviews then come in on the units they sell!
But guess what?
You read the section earlier discussing the importance of product inserts right?
Well, the units you give them to send to FBA would have said product inserts in them on the next round of inventory after you've read this post.
So you see how that benefits you right?  You're doubling your exposure and opportunity for a review.
Every bit counts, but don't stretch it.  It's a BIG problem if you violate Amazon's terms of service.
I can't tell you how many inquiries I get per day from Amazon sellers who through one way or another have gotten their seller accounts suspended and they want help getting them reinstated.
I'll bury the lead and tell you it's VERY CHALLENGING to get back in Amazons' good graces and sometimes you can't.
So, that's why even though this article is called How To Get Amazon Reviews The Ultimate Cheat Sheet, I want to focus on what NOT to do.
What Not To Do To Get Amazon Reviews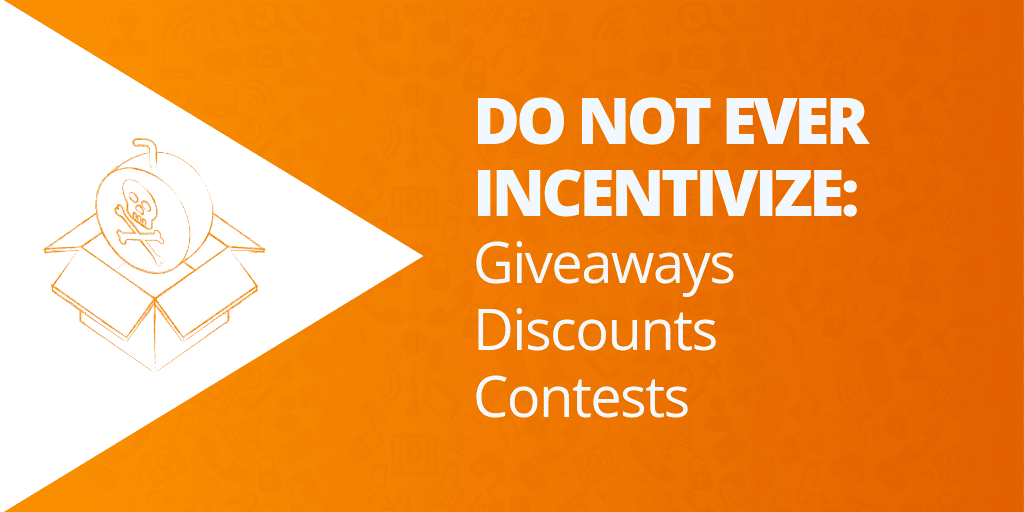 Do Not Use Incentives To Get Amazon Reviews
Look, I'll be brief and to the point.
Anything that incentivizes a person to leave a review, avoid at all costs.
This includes but is not limited to:
Contests
Freebies
Discounts
Asking people who haven't bought or tried the product to review your product
Asking people to leave a good / positive review in any way (don't try to get creative with your verbiage)
Heres why, if you in any way instruct a customer to leave a positive review or not a negative review or incentivize them, you're done.  Excuse my bluntness but Amazon is not pulling punches.
Plus, it's not a bad thing.
Think about it, that means your competitors can't do these things either.
A level playing field without shenanigans and trickery is a good thing.
But I did mention not to ask people who didn't actually use your product to leave a review.  Why?  What's the harm in that?  What if they got it from my website and want to leave a review on Amazon?
Or what if they are friends and family?
Well, they better not be on an IP Address or WIFI Network known to Amazon to be affiliated with your Amazon Seller Account or have ever been.
Why?
That's gaming the system too!  Amazon is on top of this stuff, it's not 1996 anymore.  You are not smarter than them and you're not in the business of trying to be.  You're in the business of selling whatever it is you sell and tirelessly pursuing customer satisfaction.  Period.
But wait, do you mean people can't review the product if they didn't purchase it on Amazon?
No, I'm just saying be careful about gaming the system.
Let me elaborate, as it turns out, all reviews are not created equal and some will help you more than others.
Why All Reviews On Amazon Are Not Created Equal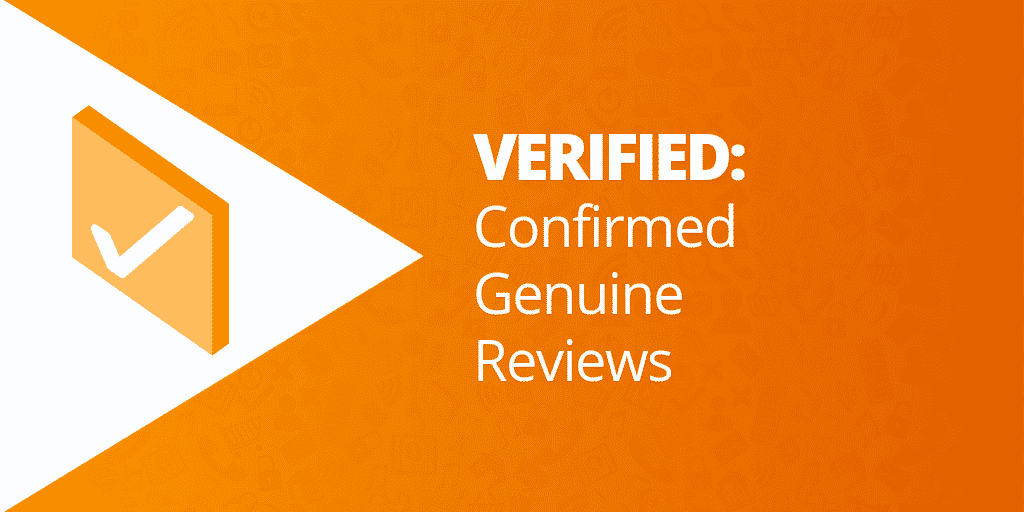 Amazon Verified Reviews
You've seen the Amazon verified review badge.  It's the way Amazon separates people who have actually purchased on Amazon from those who haven't.
Nowadays it's hard to find a review that doesn't say Verified Purchase on it.
Again, that's a good thing.
It's a lot more than proving who actually bought or not though.  Have a look:
These are the verified Amazon reviews for that Survival Tent we looked at earlier.
Amazon Verified Reviews have these impacts on your Amazon Sales:
What's more, Amazon also limits the number of non-verified reviews a customer can leave in a week to 5.
What's the bigger picture here?  Amazon is going to great lengths to limit fake reviews and clean up their marketplace.
I mentioned Amazon SEO a lot in this article because let's face if you want this to happen:
Customer goes to Amazon and searches for keywords that make sense for your product
Customer looks at the search results page and sees your result on page 1 near the top
Customer clicks through to your listing
Customer likes what they see and buys
… then you need to make sure you have a system in place to get a lot of verified reviews and regularly. the process I just described is achieved through Amazon SEO.
Like I said earlier, Amazon rewards quality, quantity and consistency of Amazon reviews with visibility because they believe reviews are a MAJOR factor in purchasing decisions because… they are.  Again, Amazon is focused on RPC (Revenue Per Customer).

How To Get Reviews On Amazon:
---
Amazon reviews are your lifeblood
Amazon reviews greatly affect Amazon SEO (your visibility on Amazon)
You want to focus on:  quantity, quality & consistency
Not all Amazon reviews are created equal
Reviews significantly improve your Amazon Listing Optimization
 DO:
Ask for the review
Use follow up sequences
Use a launch list
Use product inserts
Use great packaging
Use the Vine program if you are a Vendor Central Seller
DON'T:
Incentivize reviews
Ask for positive reviews only
Leave reviews on your own products or have family or friends do it
HOW TO GET AMAZON REVIEWS INFOGRAPHIC
[sociallocker id="37579″]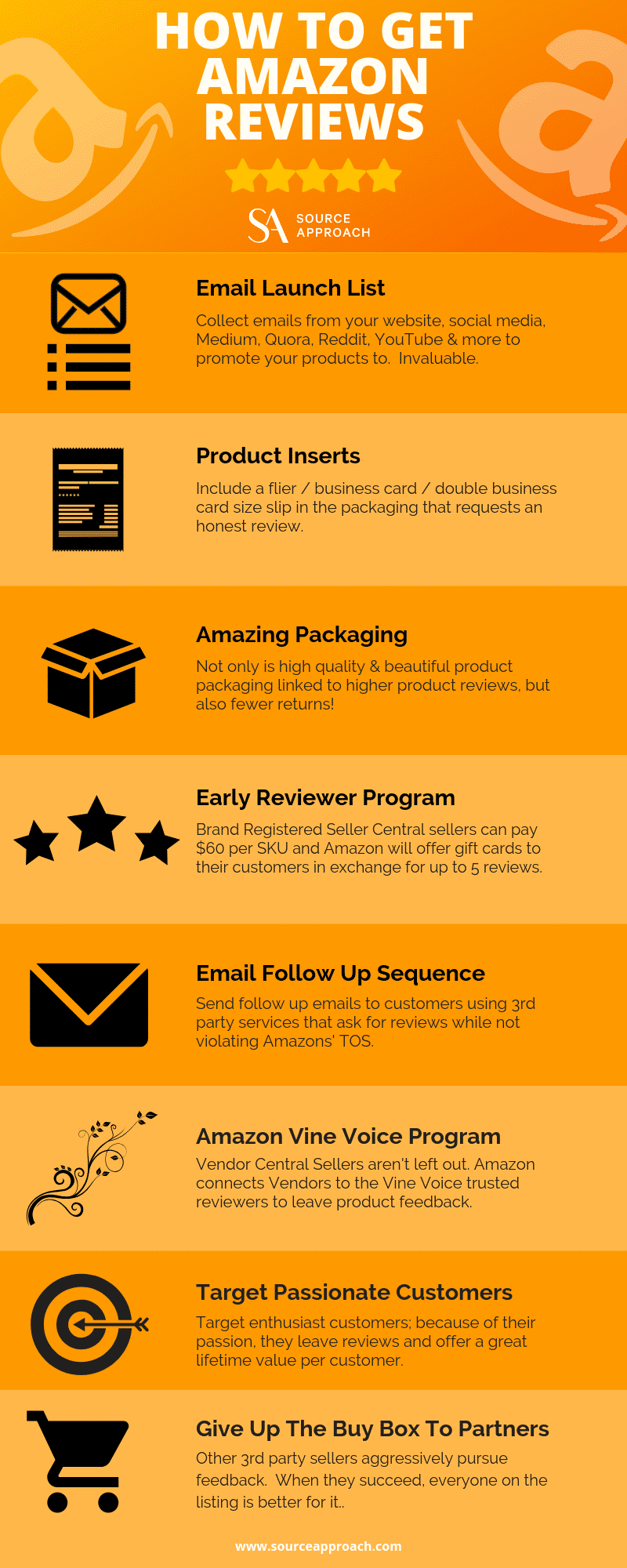 Share this Image On Your Site
[/sociallocker]