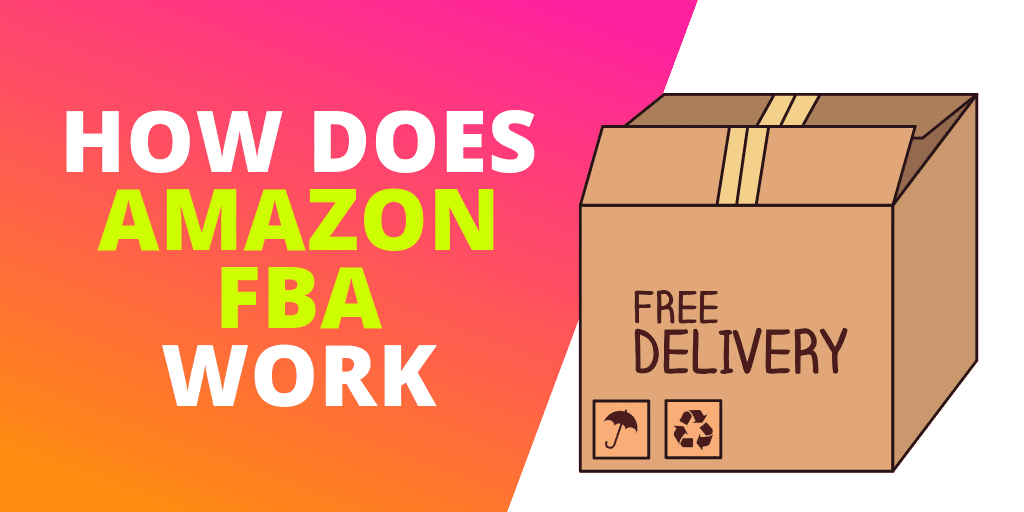 How Does Amazon FBA Work? (INFOGRAPHIC & GUIDE)
What is Amazon FBA and How does Amazon FBA work?  Amazon FBA, (Amazon Fulfilment By Amazon) works for Amazon Seller Central Sellers as your fulfillment channel.  You send inventory into Amazon fulfillment centers around the country and when a customer places an order, the order is sent by Amazon instead of you.  This also includes Amazon FBA Small and Light, Amazons' 3-5 Business Day Shipping Option for smaller products which are not normally cost-effective for Amazon FBA.

---

The biggest benefits of Amazon FBA for the seller are the Prime eligible badge on listings, which significantly increases click-through rates and conversion rates, handing off customer service inquiries to Amazon and not having to fulfill orders in house.  Other benefits include fulfilling orders from other eCommerce channels (your eCommerce website, Walmart, Newegg, etc. through Amazon's Multi-Channel Fulfillment (MCF))

---

Amazon FBA works as not only your fulfillment channel but also a sales conversion machine for sellers.  This is what Amazon FBA is, how Amazon FBA works, how much FBA costs and how you can use it to thrive on Amazon.

---
Selling on Amazon can drive a ton of revenue but also be incredibly frustrating and complex.  If you're an Amazon Seller Central Seller or selling Amazon B2B, knowing what FBA is and if it is right for your business sits right on top of the priority list in your Amazon channel plan of attack.
I'm going to help you comprehensively understand how Amazon FBA works and if it is right for your business.  On top of that, you'll get action items you can do today to get started and drive revenue for your Amazon FBA business.
You will learn:
If you're selling on Amazon and are looking to get extra visibility in Amazon product search results as well as scale your fulfillment without hiring extra staff,  give this a read to the end.  This article will provide a lot of value.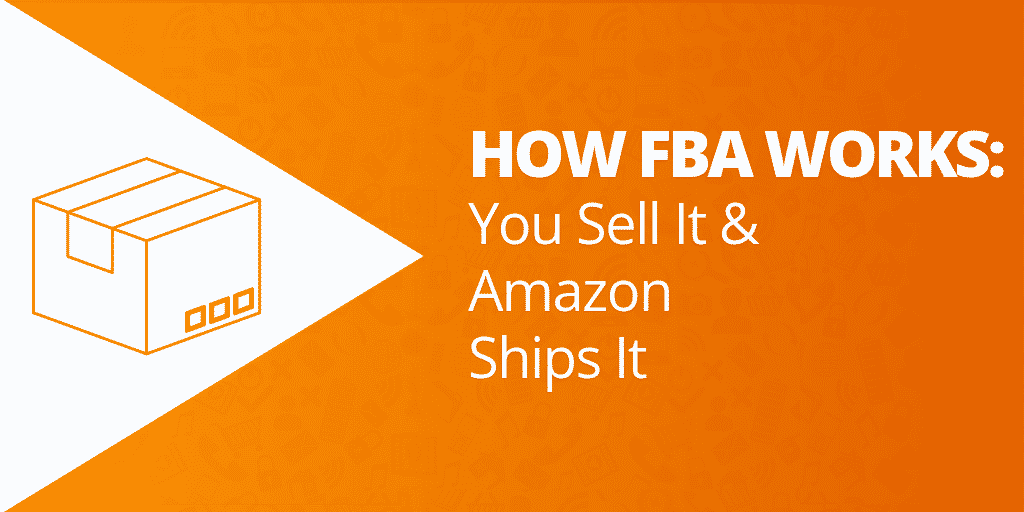 1) How Does Amazon FBA Work (What is Amazon FBA?)
Amazon FBA, (Amazon Fulfilment By Amazon) works for Amazon Seller Central Sellers as your fulfillment channel.  You send your inventory into Amazon fulfillment centers around the country and when a customer places an order from your Amazon store, the order is sent to the customer directly by Amazon instead of the merchant (you).  The most notable benefit of Amazon FBA is it makes your products Prime eligible, in other words, available for 2-day shipping. 
The other way to fulfill orders on Amazon is Merchant fulfillment.
What's the difference between Amazon FBA and Merchant Fulfillment?
Amazon Merchant Fulfillment:  
A customer places an order on Amazon from your Amazon Seller Central store.
You receive notice of the order.
You ship the order to the customer directly from your warehouse.
IMPORTANT NOTES:
These orders are not Prime eligible for 2-day shipping.
You are responsible to pick, pack and ship the order.
You are responsible for inquiries and customer service.
Amazon FBA (Fulfillment By Amazon):
A customer places an order on Amazon from your Amazon Seller Central store.
You receive notice of the order.
Amazon picks packs and ships the order to the customer for you.
IMPORTANT NOTES:
Your orders ARE Prime eligible for 2-day shipping.
Amazon charges a fee to store your items in their fulfillment centers and to fulfill orders.  You can estimate the fees for your products with a free tool that Amazon provides: Amazon FBA Calculator.
You can choose to use Amazon's shipping carriers to get reduced rates that Amazon has to ship your inventory to Amazon FBA fulfillment centers.
You can also choose to use your own shipping carrier to ship the inventory to Amazon.
Amazon handles customer service and inquiries.
Typical Questions About How Amazon FBA Works:
Simply by using Amazon FBA, does this make my products available for Amazon Prime?

It does!  It's that simple.
Amazon is very serious about delivery times to customers and can only ensure the 2-day shipping window is met when they control every aspect of fulfillment.  Therefore, you're only eligible for Prime shipping if Amazon has the inventory and fulfills it through Amazon FBA.
What is Amazon Prime (2-day shipping) and why is it so important?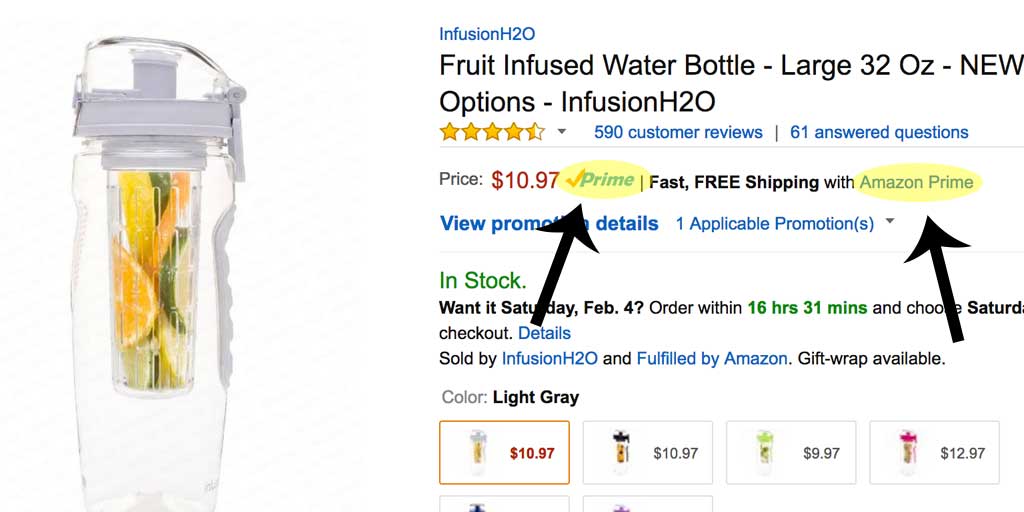 By being a paid subscriber to Amazon Prime, you receive free 2-day shipping on every order that is Prime eligible.
An order is Prime Eligible if:
it is at Amazon fulfillment centers either through a Seller Central Seller using Amazon FBA or…
a Vendor Central Seller that has a wholesale relationship with Amazon by wherein Amazon purchases the inventory from the brand, making them a vendor, and Amazon thus owns the inventory and stores it at their fulfillment centers, prices it on its marketplace and fulfills it to the customer.
How Much Does Amazon Fba Cost to Use?
I mentioned the Amazon FBA Calculator above but you could also check out Amazon's fulfillment pricing and how it works.
Does Merchant Fulfilled Prime Eligible 2 Day Shipping Exist?
It does!  Learn about eligibility, how it works and how to sign up here:  Amazon Seller Fulfilled Prime: Everything You Need To Know
Can't I Just Skip the Amazon Fees and Use that Then?
Nope.  At least not easily.
While Amazon doesn't come out and say what metrics they track and for how long to determine if an Amazon Seller Central partner is eligible for Merchant Fulfilled Prime 2 Day Shipping, I have had clients achieve this, but definitely not overnight and definitely not at low volume.
These Are the Metrics I Believe Play a Major Role:
Seller Feedback Rating
Order Defect Rate
Perfect Order Percentage
Order Processing Speed
In Stock Rate
Sustained Sales Volume & Velocity
Number of ASIN's
Amazon FBA works by allowing Amazon to control the fulfillment experience for the customer which in turn allows Amazon to ensure the customer gets a fast and efficient shipping experience.
This positive experience is passed along to you, the seller.
You see the power in that right?
But, that's not the whole story, what's in it for you?

2) What Are The Benefits of Amazon FBA For The Seller
Naturally, you're focused on the value coming into the business by executing on a channel like Amazon FBA.
There are certainly a lot of benefits in the way of sales velocity & efficiency but also reputation.
1)   Review Quantity & Quality
How Amazon FBA works to increase quantity and quality of reviews is like this:
Customers get a better experience because they get 2-day shipping.
Customers who subscribe to Prime are more engaged in the Amazon shopping experience.

Therefore, they tend to leave more reviews.
If you're interested in learning more about how to get reviews on Amazon, I took a comprehensive deep dive here:  How To Get Reviews on Amazon
2) 24/7 Customer Service
Are you a customer service specialist ready to take questions from your consumers at all hours of the day and night? Well, you don't have to be.
When you use FBA, Amazon handles all customer inquiries, refunds and returns for your orders. And even better, they are available to your customers 24/7.
This service is provided at no additional charge to you and can save you countless hours that could be better spent growing your business.
We're Giving Away Our Process To Get Amazon Influencers.
We'll trade you a proven step by step process to drive Amazon sales quicker & easier for an email.  Tradesies?
3) Trust
From its start as an online bookstore over 20 years ago, growing to its over 480 million listed products and over 244 million customers, Amazon has created a strong reputation for itself.
With this reputation comes trust from its users. If something goes wrong, people know that Amazon will work diligently to rectify it.
Because of this, there is a strong consensus that customers are more likely to buy a product when it has the Amazon Prime check of approval because to a consumer this means there is less risk associated with the purchase.
4) Improved Product Rankings in Amazon Search Queries (Amazon SEO)
As you most likely know, Amazon has its own algorithm when ranking certain product listings over others. This product search algorithm is called A9. The official statement for A9 explains what goes into product ranking factors.
There are many factors that go into Amazon Listing Optimization and ranking your product over your competitor's products. One of the largest factors is sales.
Notice that many high ranking products on Amazon are FBA, like these top-ranking Bluetooth mouses.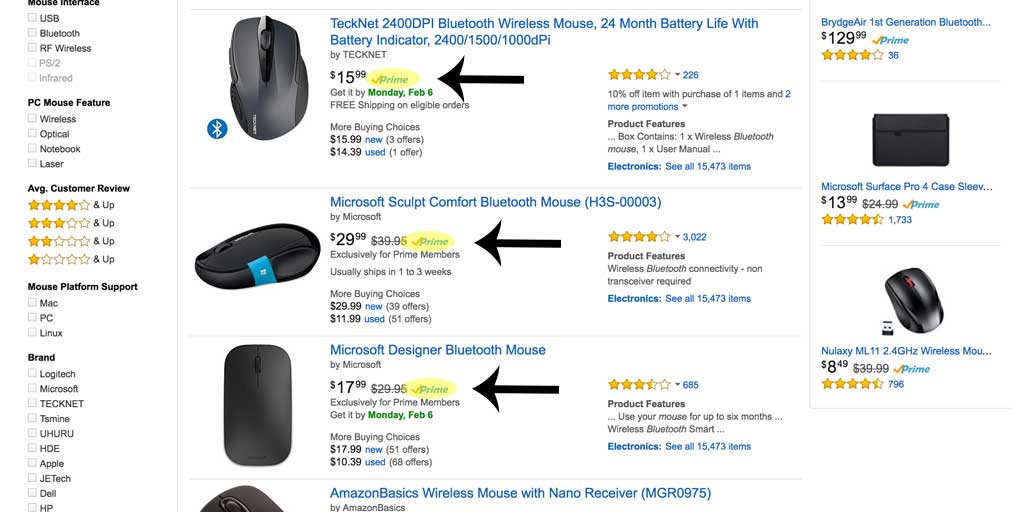 How Amazon FBA Works to help you rank higher really boils down to the fact that it impacts many of Amazon's ranking factors.
For more information on how to get your products to rank over your competitors' on Amazon check out Amazon SEO – Everything You Need To Know [INFOGRAPHIC].  Plus, I'm an Amazon Consultant with 10+ years experience if you need help making getting found quicker & easier.
So clearly Amazon FBA works to improve sales and has many benefits, but will it work for YOUR business?


3) What is Amazon FBA Small and Light?
Amazon FBA Small and Light is a program offered by Amazon which serves as an opportunity for Amazon Sellers with small and lightweight products to still offer fast and free shipping, while also getting the Prime badge next to their listings.
Amazon FBA Small and Light also serves as a solution to the dreaded Amazon add-on item problem.
Amazon FBA Small and Light FAQ:
Do products offered through Amazon FBA Small and Light still qualify for 2-day shipping?
No, but they qualify for 3 – 5 business day shipping.  Still pretty quick.
Do products offered through Amazon FBA Small and Light still get the Prime badge?
What are the requirements for Amazon FBA Small and Light?
Weight:  15oz or less
Size:  16 x 9 x 4 inches or less
Price:  $15 or less
List of Restricted Products
What are the Amazon FBA Small and Light fees?
Items $5 or Less:

Order Handling:  $0.80 per order
Pick & Pack:  $0.75 per unit
Weight Handling: $0.11 per oz (up to 15 oz per unit)
(round up to the nearest whole oz)

Items $5 or More and Less Than $15

Order Handling:  $1.00 per order
Pick & Pack: $.75 per unit
Weight Handling: $0.11 per oz (up to 15 oz per unit)
(round up to the nearest whole oz)
How do I sign up for Amazon FBA Small and Light?

4) Will Amazon FBA Work For My Business
You've worked out the Amazon FBA calculator and the costs.
Does it fit your business model?
If your margins make sense and you have room for advertising, double down on Amazon FBA.
If the margins are barely there with advertising, may still make sense to use Amazon FBA.
The truth is many use Amazon as something similar to a loss leader or break-even marketing mechanism.
There are millions of customers on Amazon every day at the end of their customer journey looking for products to purchase, already with their payment information ready to go.
There is inherent trust built into the Amazon marketplace, so customers are willing to commit to the purchase.
So what you'll see is, many brands will use Amazon as a marketing mechanism for visibility to expose their brand and customer experience to customers.
Then it's all about upsells, cross-sells and lifetime value of the customer.
Thing is if you can make it work, do it.  
Trying to thrive on Amazon only through Amazon Merchant Fulfillment is too difficult.  Granted, now there is Seller Fulfilled Prime, but if you're also looking to reduce your ACoS on Amazon, FBA with Prime eligibility is BY FAR the way to go.
With the ever-growing list of Amazon Vendor partners and the ease of access to Seller Central and FBA, the competition is stacked.
So, what can you do to beat your competitors on Amazon and make Amazon FBA work for you?

5) How To Optimize Amazon FBA To Drive Sales
After reading this, you're probably ready to log on to Seller Central and create that shipment plan right now to send inventory to Amazon FBA.
Like anything else, you don't want to rush into it and you want to make sure you have a plan that will check off certain boxes:
Do this first.
1)  Product Inserts For Reviews & Customer Service
Before you send the inventory off to Amazon, make sure each unit contains a product insert that:
Asks for an honest review and expresses how much reviews mean to you
Asks to share an image of them using it on social media
Tells them if they have a problem, you're happy to fix it and to contact you via Amazon customer service
Helps them get the most value out of the product, including a tip or 2 that may not be obvious to help limit returns
The next thing you want to make sure you have setup is an email follow up sequence.
2) Email Follow Up Sequence
"The fortune is in the follow up." — we've all heard that right?
It's a no brainer that you want to follow up with customers that buy from you to either get reviews, cross-sell or up-sell more products, etc.
As you may or may not know, you do not have access to the emails of the customers that buy from you on Amazon.
That doesn't mean you can't follow up with them.
I use Feedback Genius
This service ties into Amazon's API's and allows you to send follow up emails to your customers that will help you:
Get reviews
Improve customer service
Limit returns by including tips & tricks on how to use your product
You see the power in this right?
You're influencing some of the most important factors that impact your long-term success on Amazon.
But there's more.  At the end of the day, customers are still going to your product listings to purchase.
You need to give yourself the biggest opportunity to capture as many sales as possible with Amazon Listing Optimization.
The Amazon Prime 2 day shipping badge will get you more clicks to your listing, but you still need to convert folks.

How Does Amazon FBA Work?
---
Amazon FBA, (Amazon Fulfilment By Amazon) works for Amazon Seller Central Sellers as your fulfillment channel.  You send inventory into Amazon fulfillment centers around the country and when a customer places an order, the order is sent by Amazon instead of you.  This also includes Amazon FBA Small and Light, Amazons' 3-5 Business Day Shipping Option for smaller products which are not normally cost-effective for Amazon FBA.
The biggest benefits of Amazon FBA for the seller are the Prime eligible badge on listings, which significantly increases click-through rates and conversion rates, handing off customer service inquiries to Amazon and not having to fulfill orders in house.  Other benefits include fulfilling orders from other eCommerce channels (your eCommerce website, Walmart, Newegg, etc. through Amazon's Multi-Channel Fulfillment (MCF))
Amazon Small & Light is a great option for smaller items that otherwise wouldn't work for traditional Amazon FBA.
HOW DOES AMAZON FBA WORK – INFOGRAPHIC
[sociallocker id="37579″]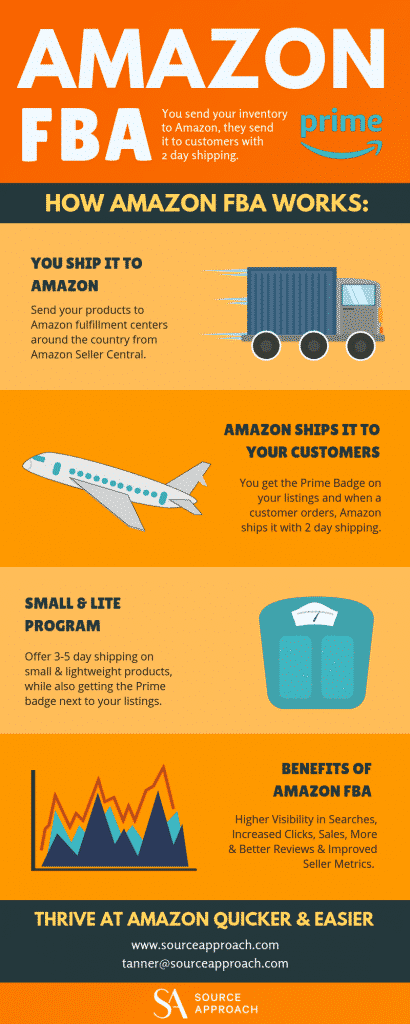 Share this Image On Your Site